I was supposed to have lunch with a friend last week but life had other plans. However we had a short but great conversation by phone.
One thing he said stuck in my mind. He mentioned that he's rethinking his plans for his layout in order to build something that's more attainable. He's realized that other commitments in his life mean that he would be better off focussing on a less complex layout that he can actually expect to finish.
I think this is a great idea – one that I've been mulling over for years, it seems, since each new layout I've started has been more attainable than those that came (and went) before it. With my Port Rowan layout, I think (I hope) I've found the right balance between challenge (S scale, hand-laid track, a number of scratch-built structures) and reward (rapid progress without an overwhelming investment of time). We'll see…
Many years ago, a Hobby Sage advised that we should plan our staging needs – then double them. The argument was that we could never have enough staging because, inevitably I suppose, we'd want to add more trains to the layout to keep people busy. Fortunately, some hobbyists are now challenging that assumption – and looking to enhance the realism of the work done by each train so that fewer trains are needed to satisfy the operators.
Done right, even a layout supporting just one or two trains can keep people entertained. Similarly, choosing industries wisely can save money, time and staging yard capacity: For example, it takes the same number of moves to spot a single hopper car on a coal dealer's siding as it does to sport a string of hopper cars under a coal tipple.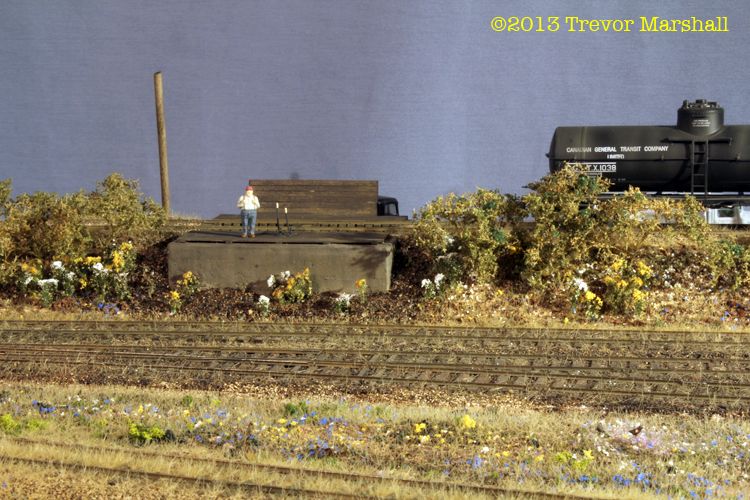 (No coal today!)
This isn't to suggest that everybody adopt the approach I have. But I encourage everyone to assess – realistically – the real world demands on their time, money and other resources when planning a layout to be sure the layout fits their lifestyle – instead of becoming it.