I've always been fascinated by interurban lines – for a couple of reasons.
I grew up in a city that has an extensive streetcar and subway system, so my earliest impressions of railroading are closely associated with electric-powered trains.
But I also must credit the late, great Bob Hegge, who wrote extensively about his O scale Crooked Mountain Lines for the popular hobby press:

While many of my contemporaries were going gooey over Appalachian coal-hauling railroads, my imagination was sparked by Hegge's beautiful models working their way – under wire – through spectacular mountain passes in Oregon and Washington.
Apparently, many others were similarly influenced, as Hegge's CML is honoured as NMRA Heritage Car #14:


(The S scale version of the NMRA heritage car, as seen on my Port Rowan layout)
(Those looking for more information should seek out the October 1977 issue of Railroad Model Craftsman magazine, which includes a layout plan and tour. But I digress…)
I've considered building an electric empire but have never felt up to tackling the catenary. That said, I do have an extensive collection of books on interurban lines, and one of my favourites is California's Sacramento Northern. I even have a pair of O scale SN steeple cabs, imported several years ago by The Car Works, which I had converted to Proto:48: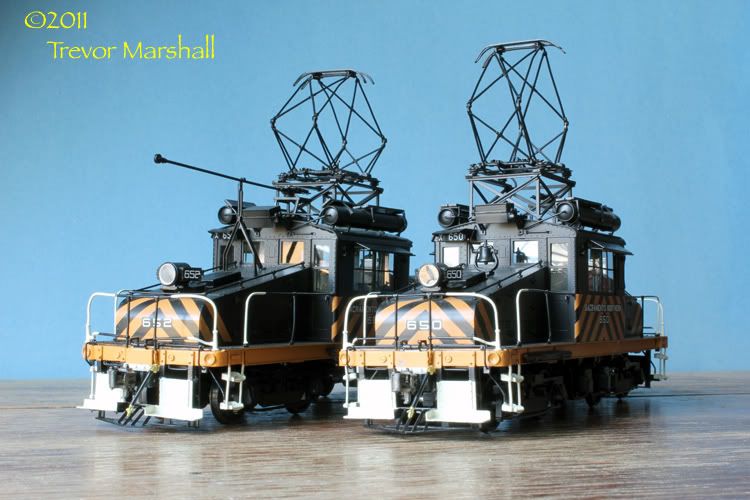 Some day, I might tackle the SN project. And if I do, I already know what area I'd like model: The line from Walnut Creek north to Concord in California's Contra Costa County.
Since somebody else might also be interested, I've drawn up three track maps based on info from various sources.
For a manageable layout in O scale, the Sacramento Northern at Walnut Creek offers interesting modelling and operating possibilities. There's a depot, an express shed, and four industries – including several spotting locations at the Walnut Growers Association and a switchback spur to serve a cannery. The passing track is nice and short, too – a reflection of the line's interurban heritage, and the short passenger trains the SN would've operated. And the numerous road crossings would require careful switching:

With more space – or, by working in S – one could choose instead to model the Sacramento Northern at Concord. Here again, we find a short passing track in front of the depot, plus some related railroad buildings like MoW sheds and a substation (a nice touch on an electric line). There's a fair bit of switching, too, with nine customers. These include many of the rail customers one found just about everywhere in the early part of the 20th Century – such as fuel dealers, lumber yards and stock pens:

Note that five customers are strung along a long spur that parallels (then enters) a street to the southeast of the depot. This is a common arrangement, but one that's rarely modelled it seems. That's too bad because it would be great fun to switch, as a cut of cars would have to be sorted into spot order before shoved into this spur. I think it would be fun to put this spur on a peninsula jutting into one's layout room…
As with Walnut Creek, there are a fair number of road crossings to contend with in Concord.
Of course, if one had sufficient space or was working HO, one could model both Walnut Creek and Concord on a layout. For a bit of variety, one could even include the Sacramento Northern's crossing and interchange with the Southern Pacific at Sparkle (Las Juntas on the SP) – located just a couple of miles north of Walnut Creek on the way to Concord:

Those big GE steeple cabs would look right at home on a layout like this, and with only a modest amount of track to build one could focus on getting the overhead wires just right…