Last week I had the opportunity to visit Bob Fallowfield and his HO scale layout. Bob lives in St. Catharines, Ontario – the city where I lived through my teenaged years, when prototype railroading really made its first impression on me. But Bob's not modelling the CNR Grantham Sub in the Garden City.
That's because when prototype railroading spoke to him, Bob was living in Woodstock – an hour and a half west on the highway. So when one descends Bob's basement stairs, it's Action Red one finds on the rails, as he's doing a terrific job of bringing to live the CP Rail in and around Woodstock in the autumn of 1980.
I hitched a ride with Ryan Mendell, while Hunter Hughson joined us later in the day. The four of us had a great time, running trains and telling tales.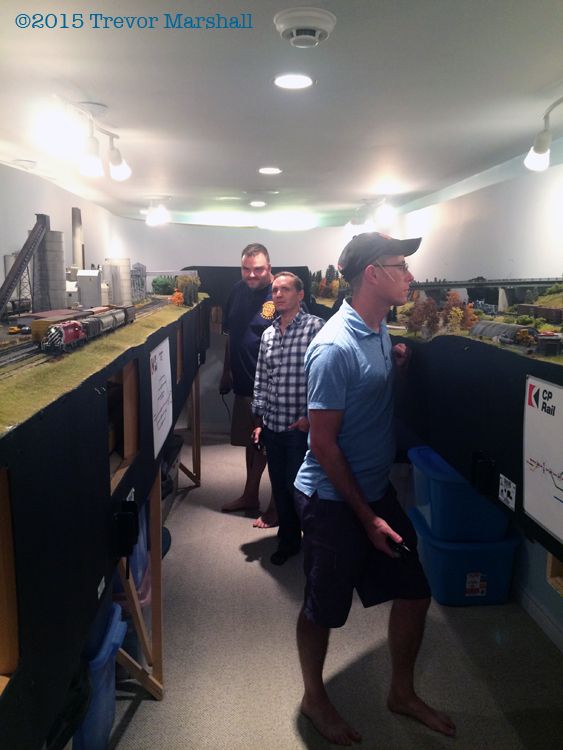 (Bob, Hunter and Ryan at work)
Bob's layout has all the qualities I like in a design.
First, it's firmly anchored in reality. I like prototype-based layouts – or freelanced efforts so well conceived that they could've been based on reality – because they challenge the builder to learn about real railways. Everything from track arrangements to operating patterns just rings truer when one observes, and copies from, the full-size world. Even little details are present, like speed signs: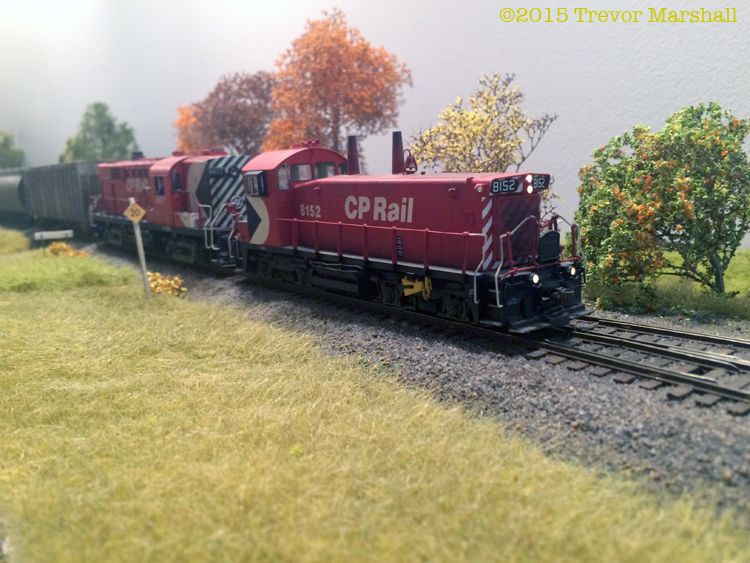 Bob's layout is also modest in scope, and his focus on specific scenes has helped him to make great progress. This is his first serious effort at a home layout and he's accomplished a great deal in less than five years.
In a space the size of a typical basement recreation room, Bob has built the railway's small yard in Woodstock, plus the neighbouring industries. The yard is L-shaped, occupying a long wall and a short wall in the room. His interpretation of Woodstock is quite close to the prototype and Bob has achieved a nice balance in his composition, putting the railway in its environment: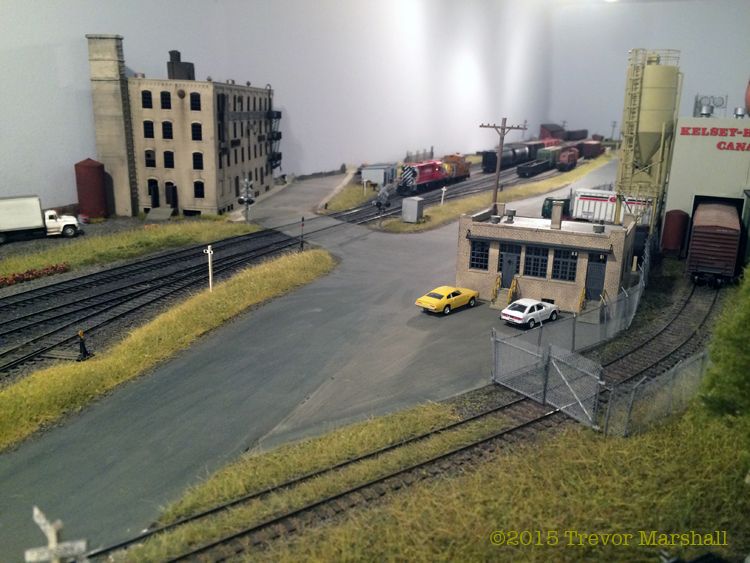 Across the aisle from Woodstock, Bob has modelled Zorra, Ontario – a community just to the west on CP Rail's mainline, and site of a large cement plant fed by its own quarry:

On the other side of the Zorra backdrop, Bob has included Beachville and Putnam – two small stops along a secondary line to St. Thomas:
While Woodstock is a modest yard, it's also a busy place. The town is on CP Rail's mainline connecting Toronto with Windsor – the gateway to Detroit and the US Midwest. There's a parade of mainline trains through Woodstock in both directions, including a few that stop in the yard to drop and lift traffic.
A local switch job works the freight house and neighbouring industries around the yard, while a number of branch line jobs operate as turns out of Woodstock. During our operating session, I teamed up with Hunter on a local that switched Zorra en route to St. Mary's. I also worked solo to St. Thomas via Beachville and Putnam.
Bob has devised a clever track plan that allows all three routes out of Woodstock (east and west main, plus the line to St. Thomas) to terminate in a common staging area on a lower deck. There are many trains stored here, ready to take their turn on stage: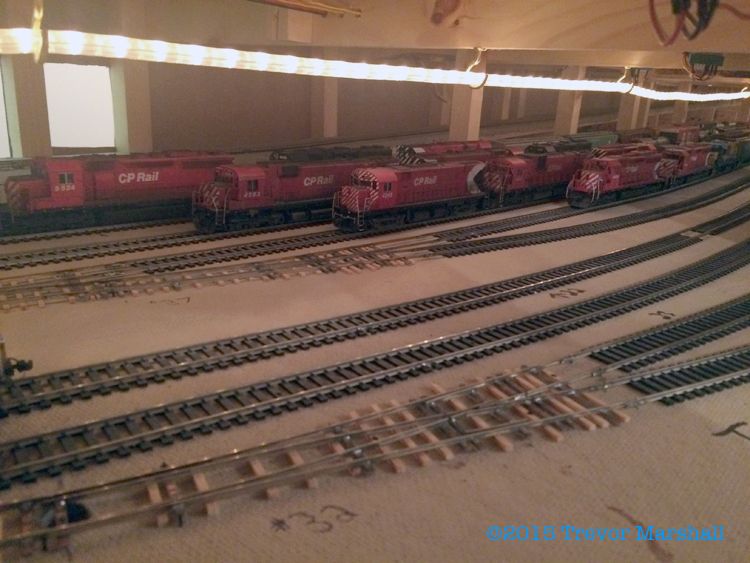 With more than 70 turnouts, Bob's layout isn't a simple design. But most of these are in staging, where a lot of storage is needed to support the parade of trains. On the main deck, where all the action is, the layout is quite modest and achievable. There's a manageable number of realistic structures to build and scenes to detail, and nothing feels crowded or contrived.
I was really impressed by the overall look of the layout, and it was a lot of fun to operate, too. It's the perfect stage for operations and a terrific way for three or four enthusiasts to spend a few hours completely absorbed in an interesting era in southern Ontario railroading.
Thanks Bob: I'm looking forward to our next ops session!
—
During our visit, we also discovered that the four of us get along really well. We share a common vision about layout design, despite pursuing different prototype inspirations:
– Ryan is building the Algonquin Railway – a very convincing freelanced line set in the 1970s and inspired by the operations of what was originally the Ottawa Arnprior and Parry Sound through Algonquin Park.

– Hunter has started his 1970s era layout by building the International Paper complex on Tonawanda Island in New York State (and is detailing its construction on his blog).

– I'm modelling a modest CNR branch line in the steam era.
Our layouts may be very different, but they exhibit common traits – including a strong vision and an achievable design that'll keep a few people entertained for an afternoon or evening, while still leaving time and energy to enjoy a meal together.
In fact, on our trip to Bob's we enjoyed a couple. Ryan and I car-pooled (thanks for driving, Ryan!) and met Bob for a late lunch at Duff's Pizzeria. This was a real trip in the wayback machine for me – after I moved away from St. Catharines to attend university, a high school buddy and I used to go there occasionally for late night wings and pitchers. In fact, I think last week's visit was the first time I'd set foot in Duff's in a quarter-century – and definitely the first time in daylight. It hasn't changed a bit…
When Hunter showed up after work, the four of us headed downtown for dinner at The Merchant Ale House, before returning to Bob's for an evening session.
As an article in the local newspaper notes, three young guys who liked to brew beer at home opened this brew-pub in 1999. This was long after I'd left St. Catharines, although I found it on one of my visits home, and I was unsure it was still around. I'm glad it is – and pleased to read that their in-house brews account for 70% of their drink sales. If you're in St. Catharines, check it out!
It was heading onto midnight by the time Ryan and I headed for home – a long but wonderful day out with friends, built around an achievable layout.
What's better than that?