Yesterday, my friend Brian Dickey displayed his British 7mm scale exhibition layout, Roweham, at an area train show – and he asked Pierre Oliver and me if we would like to help him out.
We both jumped at the chance – and we're really glad we did.

(Brian (L) discusses his layout with a show visitor while the Auto Train arrives at Roweham)

(Pierre uncouples a wagon carrying materials to build a cattle pen at the far end of Roweham. Almost the entire layout is visible in this view. Like many classic British exhibition layouts, Roweham is designed to be operated from the back. The sturdy backdrop provides solid support when coupling, and protects the structures and scenery from errant elbows)
This was my first opportunity to operate on a 7mm British layout, although I have seen many in print and a few at shows. Brian has done a spectacular job, as I hope the point-and-shoot photos I'm sharing here convey. And he's done all of this in just two years.
As the description below notes, the layout is 16 feet long by 19 inches deep. It's built in four-foot sections. Brian designed the layout so that everything required for exhibition fits into his Prius v:
The first – rightmost – section contains has a three-track sector plate / fiddle yard. This is hidden from view by a nicely finished panel: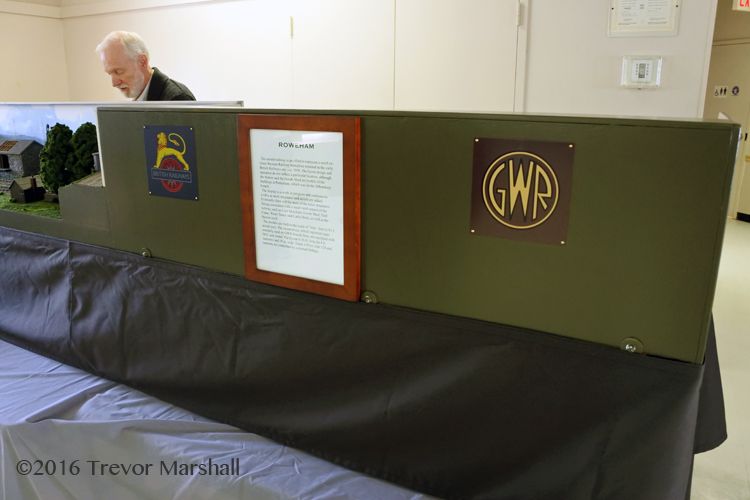 (Brian at work behind Roweham. Note the level of finish on all aspects of this in-progress layout. The layout sections stand on short legs that fold into each section for transport and storage. These in turn stand on a set of venue-supplied "banquet tables" to bring the layout up to a reasonable viewing and operating height)
The remaining three sections create a small branchline terminal on God's Wonderful Railway (otherwise known as the Great Western Railway). There are only four switches, plus a cosmetic derail. The entire layout, left to right, can be seen in the following views:

(End of the line and site of the future stock pen. A railway water tank will be added to the right of the stock pen in this view)

(The Roweham depot with high-level platform. The not yet built railway water tank will be at the lower left in this view)

(The main is in the foreground, with the turnout leading to the run-around loop at the front of the layout. A spur – we'd call it a "team track" in North America – comes off the main at left and serves multiple customers, providing several car spots and plenty of juggling of wagons into proper spot order. A loading gauge to the left of the goods shed acts like a height-checker on underground parking garages: It ensures that wagons loaded by the crane can still fit through tunnels and bridges on the line)

(The mainline disappears under a stone road bridge, as it so often does. In the back, a wagon is spotted at the coal dealer at the end of the team track)
Brian was inspired by two sources – an article on a layout with a similar design, in 00 scale, and a book on the Abbotsbury Branch of the GWR:
Despite its simplicity, Roweham kept Pierre and I entertained for several hours, and as a bonus I came away with several thoughts about layout design. In no particular order, they are:
—
Three-link chain couplings are fun in 7mm:

I'd never used them, but they were surprisingly easy to master. Brian has made up coupling/uncoupling tools similar to my Galvanick Lucipher, with a fine brass hook instead of a magnet at the business end of the tool.
Further thoughts:
– There are never any false couplings – e.g.: uncoupling then moving the train in the wrong direction and recoupling.

– There are never any false couplings – e.g.: thinking you've mated couplers, but when you pull away, the couplers separate. This isn't usually a problem with Kadees but it's definitely an issue with Sergents.

– Delayed uncoupling to shove a wagon into a spot is a snap. It's the default condition.

– All places where one must couple or uncouple must be easy to see and to reach. Carefully consider structure and tree placement and how they would affect this. Brian's layout is at an ideal height for working with three-link chains, while the 19″ depth meant we were always able to look down on the job – not try to do it from the side.

– You can neither couple nor uncouple while laughing. So cut that out.
—
The locomotives are beautiful. We operated with a GWR pannier tank engine from Lionheart Trains on the goods train, and a lovely 0-4-2T from Masterpiece Models, hauling a Loinheart Autotrailer. Both locomotives were factory-fitted with DCC and sound. The 0-4-2T's decoder even provided appropriate Autotrailer sounds, including guard's whistle, carriage doors slamming shut, and the warning gong.
The control over the locomotives was astonishing. Never mind the lack of need to thump the table: When Pierre and I were shunting wagons, we could ask the engine driver to give us slack in the chain – and the engine driver could back up so slowly and precisely that one could provide slack without hitting the buffers on the wagon. Basically, one could creep back half a link at a time.
—
7mm British modelling is an ideal size for an exhibition layout. The models are big enough that they have real presence at a show. At the same time, they're small enough that a nice exhibition layout can be built without requiring a gymnasium to set it up. With the exception of the Autotrailer, which was quite long, all the equipment on the layout compared in length to what one would find on an HO layout that ran 50-foot freight cars.
—
Presentation is important. While those in the UK may be used to layouts that exhibit some thoughtful and professional presentation, I find this is rare in North America. Brian has done a wonderful job of finishing the layout. The benchwork is nicely painted. There's a drape to hide the legs (and the DCC system, and a camera or two, and lunch, and…) – plus another drape to hide the venue's banquet tables. There are some nice signs to tell punters what they're looking at, and so on.
—
Operating from the rear of the layout was a new experience. I know there's a debate in UK circles about operating from the back vs the front. The argument goes something like this:
– Back: Exhibition layouts are like a theatre stage, with the trains as the actors. The people who bring the theatre to life – the director, the stage manager, etc. – are backstage, in the wings, so they don't take away from the performance.

– Front: Exhibition layouts are like a TV talk show shot in front of a live audience. The trains are the guests, the layout is the stage – and the presenter is out front, where she/he can engage with the audience.

– Back: I don't agree with you.

– Front: I don't agree with you.

– Back and Front: Let's grab a pint.
That said, I enjoyed working from behind the scenes – although I also made a point of talking over the backdrop with the punters. The narrowness of this layout – just 19 inches – definitely helped in that regard.
From a practical perspective, the sturdy backdrop was important, given that we had to reach into the layout frequently to couple and uncouple. It protected structures and trees from our elbows and gave us a place to steady our arms so we could hook a link.
—
I need to learn more about British railways, particularly operating practices that one can adapt to a model. For example:
– What sort of paperwork is used to move wagons? Did the GWR have waybills, and what did they look like?

– When and how was the locomotive whistle used? (UK locomotives, in general, do not have bells.) If I recall, a "long-short" is used when emerging from tunnels, under bridges, or other sight-limited situations. But the 0-4-2T had two whistles – a high-pitched one (with long and short function buttons) plus a lower pitched "warning whistle" (with long and short function buttons). When would I use each of these?

– When was the Autotrailer's "Warning Gong" used?

– What language was used between engine driver and the guy on the ground (what we'd call a brakeman here) to communicate shunting moves? Is he a brakeman in the UK?
I'd love to find out more about GWR operating practices to help bring Brian's layout to life at shows.
—
I would love to see more quality layouts like this at exhibitions, as opposed to layouts that emphasize quantity. A huge, poorly-conceived and poorly-executed layout leaves me cold, but smaller, well-done layouts like this are a delight – regardless of theme, scale, or prototype.
Thanks, Brian and Pierre, for a terrific day out in GWR country: I look forward to future opportunities to run trains to Roweham!