Over on my Port Rowan blog, a recent post – "Roweham 2017" – generated a lot of discussion about how we present our layouts to others. Roweham is a well executed exhibition layout built by my friend Brian Dickey to 7mm scale (British O scale / 1:43). It provides many valuable lessons about presentation that can be applied whether one is taking a layout on the exhibition circuit, or planning a home layout. I encourage you to read through the comments on that post if you have not.
My friend Gerard Fitzgerald sure did. Gerard has given this subject a lot of thought as well, and shared his thoughts with me. I present them here. (Thanks for contributing to the discussion, Gerard!)
—
On the question of "professional presentation" I include some photos of McCook's Landing, the Civil War roadshow layout that Bernie Kempinski and I – plus a few other folks including Paul Dolkos – built to take to some shows a few years back. A great deal of planning went into this freelanced layout, which allowed us to introduce O scale Civil War model railroading to people at a national and regional NMRA convention.
These photos were taken when the layout was set up in my living room a few years back for an NMRA home open house. The layout was designed to be as photogenic and presentable as possible. Bernie's mom made the curtains and also probably the red white and blue bunting.
Much time was spent on designing a layout that was similar to a British exhibition layout but which captured a very rare American prototype. O scale Civil War is probably even a bit smaller than the equipment used at Roweham and so operations were pretty interesting.
The layout had a small fiddle yard behind the schedule/chalkboard.
We received a great deal of positive attention when the layout was displayed and it was a very big attraction at the Atlanta NMRA National (when people could find the display room).
Putting as much effort into the design and construction of a shadowbox/display layout to make it attractive and presentable – to visitors, other modelers, and potential operators – is extremely important. Why people do not always put that much work and planning into small layouts always sort of baffles me.
One of the Model Railroader editors later said this design gave them some ideas for one of their later project layouts. For some reason I recall that at both my home open house, and the MER convention, a number of non-hobbyists wound up stopping by and were really intrigued and excited by the layout and that was quite gratifying. I must admit the layout was very impressive in person. We sweated the "window" approach with the vertical supports, which made the individual units stronger and lighter. However in operating and observing from the front you just sort of forgot about them. Bernie and I debated that approach for a while and we were surprised the supports seemed invisible after a while.
In the USA, for whatever reason some people seem to associate "presentation" more with home crew lounges than small layouts. Not always but one can go to train shows and see some portable and modular layouts that are, for lack of a better description, unfinished. Public shows are about advertising the hobby to some extent, not to mention putting your best foot forward as a layout builder, but the small British display layout approach just hasn't taken root in the states. Maybe someday … but I doubt it.
Sadly Bernie tore his sections down and the only section left is my Biscuit Run bridge unit, which I have downstairs along with the other benchwork components. And yes, the legs were attached and folded down and there was lighting.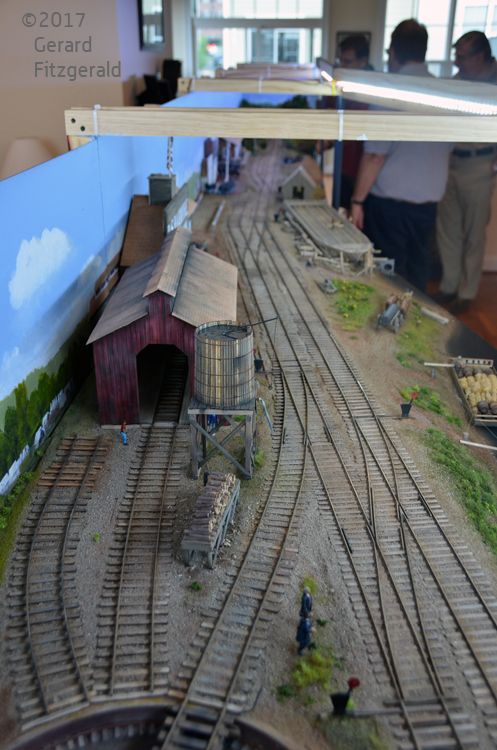 I need to finally write something up about McCook's Landing and send it to Model Railroader, which I promised a while back.
You can see lots of photos and there is more information at Bernie's blog too:
United States Military Railroads…
Home Page
McCook's Landing category
– Gerard
Gerard J. Fitzgerald
Charlottesville, Virginia