Recently, I was looking through To Stratford Under Steam by Ian Wilson and the Waterloo Subdivision – specifically the section south of Kitchener to Galt – caught my eye.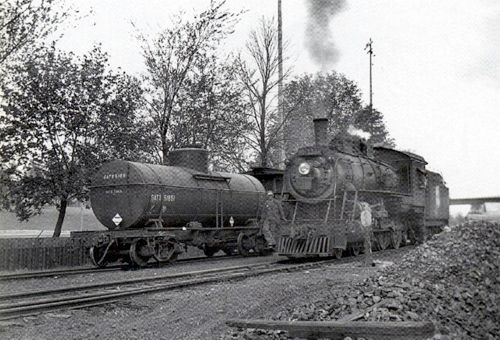 (Click on the image to visit Ian's website and more information on this book)
(Those of you who have the book can start reading about it on page 59. Unfortunately for those who do not have it, it's out of print – but may be available through Canadian hobby shops and there are six copies listed through ABE Books as of this writing.)
There's not much to this line. It's barely 13 miles from Kitchener to the end of track. Parkway and Doon each have a three-car spur, while a 14-car spur is located at Blair. All three are mapped in Ian's book. Parkway has a small flagstop shelter on the other side of a road from the spur, while Doon and Blair each have an old boxcar set next to the spur to act as a freight house. These three spurs are used as team tracks and all are facing-point spurs as one heads down the branch, so they'd either have to be worked via a flying switch or worked on the return journey.
At the end of the line in Galt, there's a handful of industries. These include a lumber yard (in the former CNR freight shed)… a fuel dealer who uses the former turntable lead to store coal… and the Canada Bread Company, which is adjacent to the yard and uses the team track to receive carloads of flour.
A long tail track parallels George Street. Ian's narrative suggests that it serves another coal dealer as well as a utility company storage yard (he mentions a shipment of poles on a flatcar, coupled to an idler). In all, a half-dozen turnouts to build (plus staging to make it all work).
(For those with the book, note that there should be a crossover on the track map of Galt on page 65: it's visible in the photograph above the map.)
Galt doesn't even warrant a station. It has a signboard instead. But the line is laid out on a lovely curve and the entrance to the yard (such as it is) runs under a deck girder bridge supporting a Canadian Pacific line – in other words, a perfect way to frame the scene (or exit the scene to staging). There's an interesting mix of buildings around the yard, and some beside-the-street running on the long tail track.
As noted earlier, there's no turntable: The small locomotives used (2-6-0s and 4-6-0s) simply backed their train to Kitchener when done. And – best part of all – the train is called the Roustabout: what a lovely name!
UPDATE:
Since there's been a fair bit of interest in this, I've sketched the four stations south of Kitchener on the Waterloo Sub:
The first station is Parkway (MP 4.52 from Kitchener), which features a three-car spur and a small station:

The next station is Doon (MP 7.24), which also features a three-car spur. No depot here, but an old wood-sheathed boxcar serves as a freight shed:


A similar shed is found at the next station, Blair (MP 9.58), which has a 14-car spur:

The branch ends at Galt (MP 12.90). There's no station here – not even a boxcar "freight shed". But there is a run-around and two spurs, a section house, a coal shed and lumber company, a bakery, and of course a serious CPR bridge over both the Waterloo Sub and the Grand River. Further along, the line parallels George Street for several blocks as noted earlier: