I recently received a comment on a posting on my Port Rowan layout blog that suggested that I should add more industries and switching opportunities to the layout. I believe the reader is concerned that there will not be enough for visiting operators to do during sessions.
It's a fair observation so I thought I would address it in a posting.
The truth is, I have thought a lot about the operating potential of this layout. In fact, I started thinking about it even before I started building the layout, just over a year ago. I chose the prototype I did – after much consideration – because Port Rowan offered engaging opportunities for realistic, satisfying operation while fitting in my layout room.
My experience with my previous layout – a Maine two-foot gauge line in O scale – confirmed for me that a lot of satisfying operation can be had on a layout with relatively few sidings and spurs. It's my experience – having built a number of layouts for myself over the years, and having helped design, build and operate dozens more – that a complex design often adds construction and maintenance headaches without adding much by way of operating fun. In extreme cases, additional trackage may actually reduce the amount of operating fun by reducing the need for careful planning before starting to switch a customer.
"Careful planning" is a phrase that needs defining. This is not the type of planning required to master a switching puzzle, such as the Time Saver. I am not at all in favour of switching puzzles on layouts – and neither are prototype railroads, which do everything they can to avoid them.
But prototype railroads make do with as few tracks as possible, because every additional switch is an additional cost to maintain, and another opportunity for a derailment. For example, instead of adding a second track to serve an industry, an existing spur may be extended. Spotting order – the arrangement of the cars, in order, before shoving them into the spur – then becomes important.
There's a lot more operation on my Port Rowan layout than at first appears. Almost every siding and spur on the layout does double-duty – from the three- and four-spot team tracks in St. Williams and Port Rowan to the end of track at Port Rowan, which also doubles as the spur for the JC Backhouse feed mill.


(Click on the plan to open a larger version in a separate window.)
Assessing the operating potential of any layout based solely on the number of spurs and sidings drawn on the plan also ignores the reality that switching even a single spur is a lot more involved than throwing the switch and banging the car into place. It's only through studying the prototype and how it worked that the full potential of any layout is revealed.
For starters, there's proper operation of a steam locomotive. I have been fortunate enough to experience this first-hand, having volunteered as a fireman during Santa Fest and Polar Express events at the Maine Narrow Gauge Railroad Museum in Portland.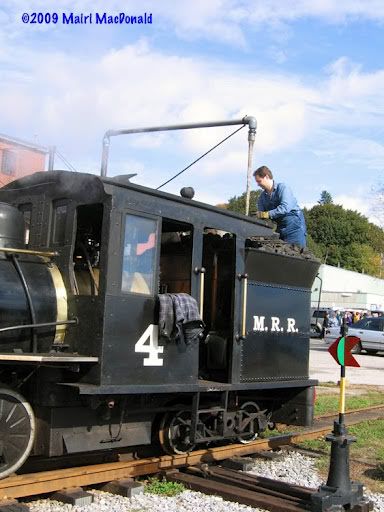 (That's me, in warmer weather. This wet job is a lot less fun when it's freezing!)
Understanding how a locomotive works has absolutely changed how I approach the hobby. It has affected how I set up the various functions, variables and performance characteristics of sound decoder-equipped models. And it has affected how I operate those models. This has extended the amount of time it takes to perform even simple switching moves in St. Williams and Port Rowan.
Working those events in Maine also gave me a real appreciation for the roles that various crew members play to build a train and get it over the line. Safety trumps speed, every time. Crews consult to plan their moves before the throttle is cracked. Those on the ground confirm that they have the attention of those in the cab before they step between freight or passenger cars to do their work. And so on. Again, on the layout this attention to modelling the jobs of railroading – a phrase I first heard from Layout Design SIG founder Doug Gurin – adds time to any operating session.
Those who want to build their knowledge of how to translate prototype operations to a layout do not have to join a steam crew at a museum – especially if they're interested in replicating more contemporary operations on their layouts. It's as easy as standing trackside – on public property and at a safe distance, of course – and watching a real train crew do their work. If you're looking for a primer on what to expect before you head trackside, I highly recommend the book How to Operate a Modern Era Switching Layout by Lance Mindheim. (Visit Lance's online bookstore for information on ordering.) Lance presents a compelling case for an alternative to the more is better philosophy of layout design and operation.
The point Lance makes – and I agree – is that "more track, more industries" does not necessarily translate into more operating satisfaction. But an understanding of how real train crews perform their duties does – every time.
Back in the 1950s world of Port Rowan that I am recreating in my layout room, I have already run a number of operating sessions on the layout – with friends and by myself – and I'm more than satisfied with how the layout comes to life during these sessions. I continue to explore ways to enhance these sessions – not by adding track and industries, but by focussing on modelling the jobs of railroading in 1:64.