Last year, a friend asked me for some help with a design for an S scale CNR layout. I always like to design layouts – even freelanced ones – from prototypes, following the Layout Design Element principle that if it worked for the real railroad it must work in model form (we just need to figure out how it was used). So I turned to Ian Wilson's various books on CNR lines in Ontario and one of the LDEs I picked for this layout design was the small waterside terminal at Wiarton.
There's a neat article about the Wiarton railway station (with several great photos) online at Postcards From The Bay. Click on the postcard, below, to read it: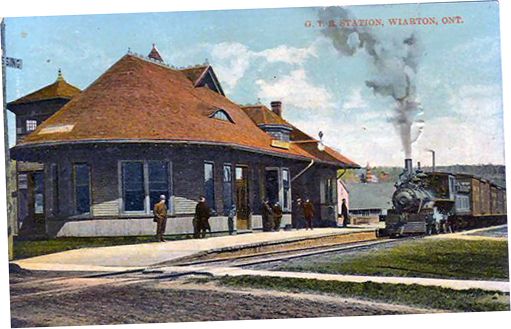 Ian writes about Wiarton in Steam Over Palmerston and the book includes a track map – really useful when designing a layout!
(Wiarton is also well-covered in an earlier book, Two Divisions to Bluewater by Peter Bowers, published in the early 1980s by Boston Mills Press. Peter also includes a drawing of the track arrangement in Wiarton.)
The railway at Wiarton is confined to a long, narrow strip of land along Colpoy's Bay – perfect for a long, narrow section of benchwork. That said, it's a pretty long yard – especially in a larger scale such as 1:64. But I was able to work Wiarton into my friend's layout space by wrapping the terminal into a spiral. I'm quite pleased with how the design turned out.
Here's the plan for the Wiarton section of the layout, with notes below:


(Click for a larger version)
– Two squares = 12 inches. To save you counting the squares, this section of the layout plan is approximately 12 feet by 17.5 feet, including the squares to either side of the drawing. (Obviously, some access aisles would be necessary along the left, right and bottom edges of the plan.)

– Unless noted, minimum radius is 48 inches and switches are Number 8s. This will accommodate my friend's stable of CNR steam power – up to 4-6-2s and 2-8-2s – as well as full-length passenger cars. That said, photos in Ian's book show this to be the land of Moguls and 10-Wheelers.

– The Wiarton area is designed to be operated from the inside, but since there's access to both sides of the peninsula it will be easy to install and service the turntable. (I've written many times on this blog about how I feel turntables are the fussiest piece of track work on any layout, so I always like to have them up front and easily accessible.)

– Since access to both sides of the peninsula is advantageous, it's designed with no backdrop. (That said, one could hang a fabric backdrop, such as I've done on my layout.)

– The wharf area has a 42 inch radius curve, but this area will be switched by smaller steam power shoving a couple of freight cars at a time. I use 42″ radius curves on my layout and the 2-6-0s and 4-6-0s I run have no complaints. Customers here include the British American Oil Company (at the end of the spur), Wiarton Fish and Ice, and McNamara Construction. Other structures along the spur would include a boat repair shed, plus several tool and oil sheds.

– The post in the room is, well, unfortunate, but it does provide a solid place to anchor the far end of the peninsula. The fishing boat wharf will be a nice scenic element but will also help with stability for this long, narrow section of layout.

– If one is really pressed for space, a sector plate-style staging area could be built running up the left side of this plan, and Wiarton would work really well as a self-contained terminal-to-staging style layout.

– The terminal would require a variety of freight cars – from boxcars and stock cars, to coal hoppers and tank cars, to refrigerator cars for fish caught in Georgian Bay. At a minimum, a combine would take care of passenger equipment although Ian's book includes photos of trains ranging from a single combine to a coach or combine plus baggage car.

– There's a team track next to the turntable. Nearby structures/industries which could be moved closer to this track (but not adjacent to it – no point in losing the flexibility of the team track) include the Wiarton Co-op, a feed mill, a wood-working shop, and a power station. As with the wharf area, several sheds and storage buildings are not shown on the layout plan.

– There's a section house located up-line from the station. It could be moved to the long curve between station and yard area, to add another railroad-y structure.

– The station should actually be closer to the yard, but that 48″ radius curve to get onto the spiral peninsula sure eats up space. If one is uncurling the plan, move the station closer.

– I have drawn some trees along the curve between station and yard. This is because we needed a soft screen to separate Wiarton from another scene on my friend's layout. If being built as a stand-alone layout then I would scenic this area like a town park, rather than a forest. Add a band stand or picnic pavilion… walking paths… benches… playground equipment, and plenty of large, healthy trees to provide shade. And then make sure there's a fence in good repair separating the park from the railway!

– According to Ian's book, two mixed trains ran daily except Sunday. Second Class train M341 arrived at Wiarton at 10:55am and left at 12:25pm as Second Class train M336. Later, Second Class train M337 arrived at Wiarton at 1:55pm and departed at 2:15pm as Third Class train M338. I'd be tempted to drop the passenger cars at the station for unloading/loading express, while the crew heads into the yard area to do any freight switching. With outbound freight assembled in the yard, I'd then back up to the station to collect the passenger cars, bring them into the yard to build the train, then turn the locomotive and finally pull ahead to the station to load passengers before departing Wiarton for Clavering, Hepworth, Parkhead and beyond.
I think this is another excellent example of how one can look to the prototype for an achievable layout in S scale. Even as a stand-alone layout, Wiarton has much to offer.
While it won't support marathon operating sessions (something I no longer enjoy, anyway), there are two mixed trains to operate each day with switching to keep a couple of people entertained for a reasonable length of time.
For the craftsman, there are plenty of interesting structures to build, including the beautiful (and, fortunately, preserved!) Wiarton station and the wharves.
There's even space for fishing boats – and an oil tanker.
The layout builder could even include Wiarton's most famous resident!