This is my shout-out to Andy Sperandeo, for contributing one of the most ground-breaking – if under-appreciated – layout designs ever published in a major hobby magazine.
Of course, I'm referring to the ATSF San Jacinto District – an HO scale walk-in, walk-around layout featured in the February 1980 issue of Model Railroader.
I mentioned this layout as a postscript in a previous posting, in which I wrote:
It would be relatively straight-forward to resize this layout for 1:64, adding broader curves and longer switches if possible.
I've now done this – plus made a few other, minor modifications – to offer up an S scale version designed to fit in a 14 foot by 22 foot space. This is actually smaller than a standard "California Basement" (otherwise known as a "garage"). Here's my S scale version of Andy's layout plan: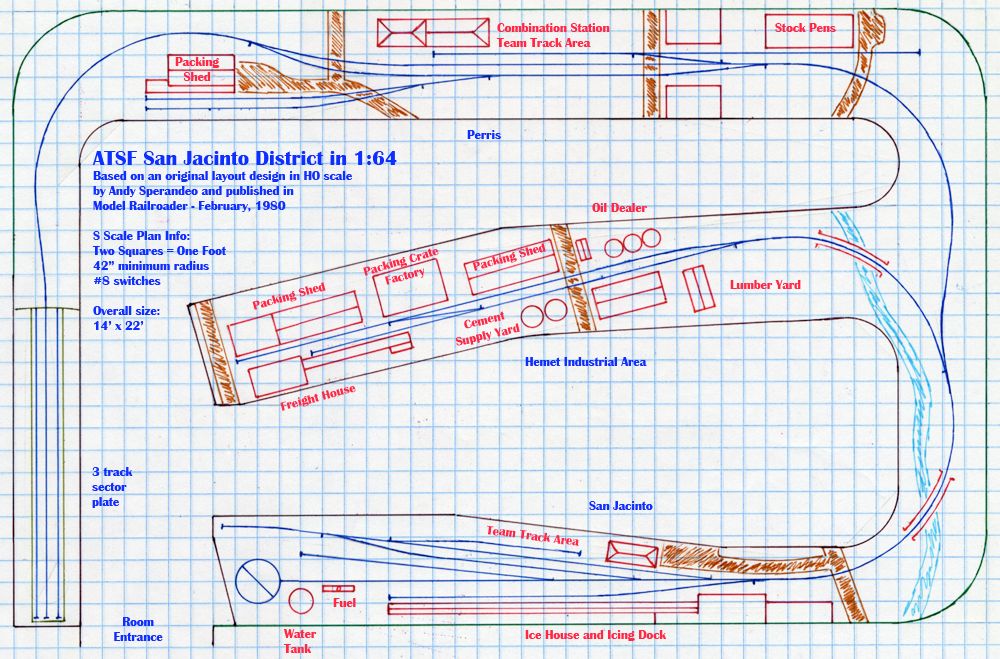 (Click on the plan for a larger version)
Some notes:
– Those familiar with the original will immediately recognize it, I hope. The peninsula received a dogleg to accommodate the #8 track switches and 42″ minimum radius curves I set as standards for my personal planning challenge. (These are much more generous than the HO equivalents used in the original design. In practice, I would probably build such a layout with a mix of #7 and #9 switches built in Fast Tracks fixtures. I'd choose the switches when laying out the track centre lines, using full-size templates available from the Fast Tracks website. But #8 are quick and easy for me to draw.)
– The original article does a great job of describing operation, etc., so I won't duplicate that. Buy a copy of the issue from Kalmbach. Find it in the Model Railroader DVD. Or find it in one of Kalmbach's layout planning special issues – it's been featured a few times.
– Instead of a traditional three-track stub-end staging yard, I've drawn a sector plate – similar to what I have on my own layout. While I've given it three tracks, I would suggest building the benchwork and then figure out how many tracks you can squeeze onto the shelf. As with Andy's original design, this could be hidden behind sliding doors – or a curtain.
– If one had more than the 14-foot width I used for this plan, I would cut the main between Perris and the switch to the Hemet Industrial Area, and lengthen the mainline here to widen the aisle at Perris. At the left side of the plan, one could replace the sector plate with a conventional yard, feeding all the tracks onto a 12-inch (65-foot) turntable at the far end of the shelf. This would accommodate small steam or diesels, and reduce handling of the equipment.
– Regardless of the style of staging area one uses, some extra shelves on the wall above the staging area could absorb a tremendous amount of equipment.
– I've made no attempt to accurately draw the structures – just suggest their locations. I did move the water tank in San Jacinto, putting it closer to the turntable from its original location near the station.
– Certainly, this layout doesn't have to be the San J district. For example, one could easily substitute Southern Pacific standard stations, freight houses, water tanks and other facilities for the ATSF designs. It would then be an ideal plan on which to set loose a couple of the S scale Southern Pacific 2-6-0s recently announced by Dan Navarre at River Raisin Models.
—
Andy – In 1980, this plan was decades ahead of its time. It still works, really well, more than 30 years later. And it did more to influence how I think about layout design today than just about anything else I can recall. Thank you!
—
UPDATE: I learned yesterday (October 3, 2015) that Andy has passed on. I knew he had a number of health issues but it still came as a shock. His time at the helm of Model Railroader is, for me, a high point in the publication's history. I had the opportunity to see him a few times over the years – notably, we shared duties in the yard on John Armstrong's layout at an operating session in 2002. His knowledge of the hobby was extensive, and he was always willing to share it. Most of all, he was a fun person to hang around with. Relationships are the most important part of this hobby – more important than the stuff. He'll be missed by many – including me.