(CPR mixed at the Elora station, from the Canada Rail web site. Click on the image to visit Canada Rail online)
The Canadian Pacific Railway's 27.3-mile branch to Elora, Ontario is an ideal subject for an achievable layout. This branch left the mainline at Cataract Junction, a location with a lot going for it as the focus of a layout. Here's how it appeared in 1912:

Leaving Cataract Junction, the branch then passed through a handful of communities. At Fergus, the CPR (and CNR) served Beatty Brothers, a major industrial customer whose manufacturing plant built washing machines. But the rest of the branch was typical of quiet rural Ontario communities. The railway would haul passengers, express/LCL and carload goods typically found in an agricultural area.
The end of the line was Elora, which featured a compact terminal hemmed in on all sides by roads:


In the popular modelling era of the 1950s, this branch was served by a mixed train hauled by one of the railway's D-10 class 4-6-0s, with a combine bringing up the markers.

(A promotional video of Elora in the 1940s, posted by the Grand River Conservation Authority. This 4:33 video includes some footage of the Elora yard. You may also watch it directly on YouTube, where you may be able to enjoy it in larger formats)
The Elora branch was part of a larger system of branch lines radiating out of Orangeville to serve communities throughout Ontario's Bruce Peninsula, including a line to Teeswater and Wingham via Mt. Forest and Harriston… a line to Walkerton via Durham and Hanover… and a line to Owen Sound. There are several sources for information on these branches, including two books from Boston Mills Press. Steam Trains To The Bruce and a follow-up album, Running Late On The Bruce, are both now out of print. But click on the cover of each (below) to launch a search on the ABE books website: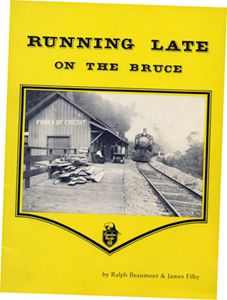 I'll warn you now, as out of print titles they're not cheap! For those with a more casual interest in the CPR in Southern Ontario, I can recommend several articles on the Old Time Trains website:
— CPR Bruce Division Branches pt 1 includes a link to a map of the Cataract facilities as they appeared in 1923, plus a couple of pictures of the water tank.

— CPR Bruce Division Branches pt 2 includes several photos of the Elora branch, and a link to a map of the Elora facilities as they appeared in 1949.

— CPR Bruce Division Branches – Passenger Service includes several photos of typical mixed trains.

— The Bruce Branches Gallery includes several photos of the mixed to Elora, including a couple of lovely colour photos of a mixed hauling a business car as part of a line inspection.

— Station galleries cover Cataract, Erin, Hillsburg, Fergus and Elora.

— Old Time Trains also includes an article about Beatty Brothers.
While I'm not going to provide a suggested plan for a layout, it would be fairly simple to lay out the mainline (between Streetsville and Orangeville) in an around-the-walls mainline with Cataract Junction on one side of the room and a double-ended staging yard on the other. The turntable at Cataract was taken out of service in the 1930s, which would save some benchwork depth on a layout. I don't know if the spurs to the gravel pit were still active in the 1950s. Regardless, they would provide some additional traffic for a layout so I would include them. They could be moved north of the water tank (towards Orangeville) if needed.
The branch to Elora could wrap around the inside of the mainline. Drop it down a grade from Cataract and swing onto a Peninsula to reach Elora. This way, one could model Elora in a deeper space and enjoy one's work from three sides.
I haven't mentioned scale yet. HO is obvious, with D-10s imported in brass in the past. But tackling a branchline like this also suggests larger scales, and a few years ago Sunset Models imported diecast models of the D-10 in O scale. (Sunset is currently trying to drum up interest in a diecast version in HO, too.) For more information, click on the image of Sunset's O scale D10 to visit their website: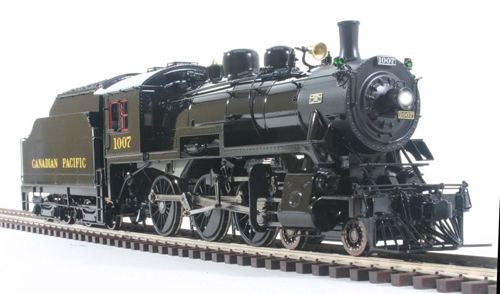 While no model of a D-10 has yet been produced in S scale, the Elora branch survived well into the diesel era and photos on Old Time Trains show a CPR Maroon & Grey switcher heading onto the branch in 1959. This would have been a freight extra, as the last Mixed Train ran in 1956, but the line was not abandoned until 1987. S Helper Service offered an EMD SW-9 factory painted in CPR Maroon & Grey, which would be an excellent starting point for a detailing project.
A layout based on any of these branches could be rewarding to build and engaging for a couple of operators to run, while remaining achievable in terms of time and space required to build and maintain it. The branches radiating out of Orangeville are definitely worth a closer look.