Sometimes, I come across a standard gauge prototype that reminds me a whole lot more of a narrow gauge one. The first time I saw the above photo of the Temiscouata Railway I thought I was looking at a three-foot operation. It's the cow, I think, that makes the scene – and there's a story about the cow, but not just yet.
The Temiscouata Railway ran 81 miles southeast from Riviere du Loup, Quebec to Edmunston, New Brunswick. There, the line turns west to follow the Saint John River another 32 miles to reach Connors, New Brunswick.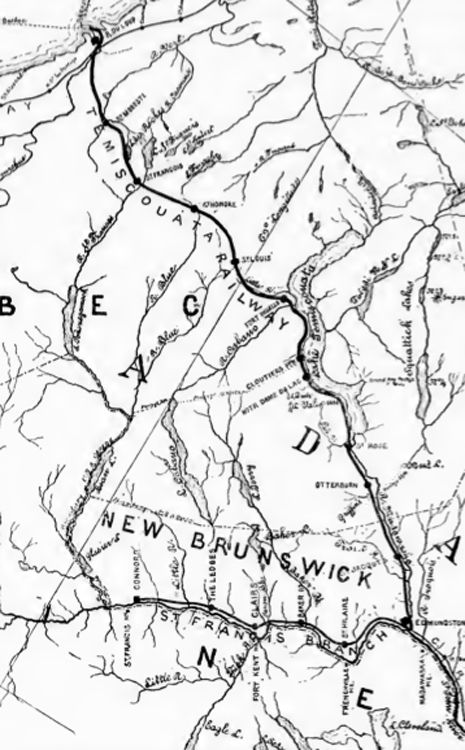 In the 1940s, the line rostered two 4-4-0s to handle passenger service – including the one seen in the lead photo. In addition, five 4-6-0s took care of freight (and covered for the 4-4-0s when they were in the shop). A round-trip passenger train ran as No. 1 and No. 2 between Riviere du Loup and Edmunston, taking about four hours for each direction and averaging about 20 MPH. The line from Edmunston to Connors saw mixed train service.
Traffic on the line reflected its path through New Brunswick and Quebec forests, and its role as a vital link to communities. Outbound loads consisted mostly of products from the lumber industry – including finished lumber, pulpwood, shingles, ties and poles. The balance included farm products like livestock, potatoes, and grains. Inbound traffic consisted of all the stuff one might expect delivered to small rural communities: merchandise, grain, flour, coal, and so on.
Now about that cow:
The photo was taken at Connors. This small terminal consisted of a single-stall engine house, a station, a hand-operated turntable, a water tank and a bunkhouse for the crew. A couple of sidings provide space for sorting cars and re-ordering the mixed train. And since this was a layover point for the crew, the place warranted a watchman to look after the locomotive overnight. The cow, apparently, belonged to him.
The model possibilities are tremendous, in a number of scales. The passenger train from Riviere du Loup to Edmundston was typically a three-car affair with wood-sided, clerestory-roofed equipment painted red. A combine, a coach and a baggage-mail car filled out the train and offer good variety for the modeller. Labelle Woodworking probably has some appropriate kits to use as starting points in HO or O scales.
In HO, the very nicely detailed and smooth-running 4-4-0 and 4-6-0 from Bachmann would be great starting points for detailing projects. I'm not sure about wheel spacing or diameters here, but hey – it's the Temiscouata! Who's going to challenge you?
Small standard gauge steam is harder to come by in larger scales such as S and O. That's too bad, really: Such power would be easier to fit on a modest layout. With that in mind, another possibility would be to use this line as inspiration, and build it as an O scale narrow gauge operation – either On2, On30 or On3. (While that's not the approach I would take – I think there's something marvellous about the Temiscouata's narrow gauge character and standard gauge stance – I leave that up to the reader.)
I first learned about this great, and manageable, prototype from a four-page article by Mike Runey that appeared in the May 1980 issue of Railfan & Railroad magazine. It originally appeared in the June 1948 issue of Railroad Magazine.
There's also an excellent write-up on the Temiscouata Railway on the Old Time Trains website. Author Wendell Lemon has done a great job of providing a more extensive history, and has included many inspiring photos – including pictures of the 10-wheelers.
As I was preparing this post, I found a number of additional photos of the railway at the University of Moncton's website for the Edmunston Campus:
– This photo shows 4-4-0 #11 on a turntable, possibly at Connors.

– Here's a group of men around a section car at Connors.

– This is a lovely view of Connors, taken in 1894. Not much has changed by the time of the photo at the top of this posting, I'll bet.
If you want to explore more, here are links to the pages. Note that the pages are in French and only a few images on each page are railway subjects, but even for anglo-only readers it's a good way to spend a bit of time on the web!
Page One :: Page Two :: Page Three :: Page Four :: Page Five
My thanks to fellow narrow gauge enthusiast Tony Ferraro for reminding me about this great standard gauge prototype!
—
Oh – and one more thing: The railway is long gone, but its roadbed lives on as a cycling and hiking trail that connects Riviere du Loup to Edmunston. It's called the Petit Temis – and you can read more about it here. What a great way to research one's prototype…