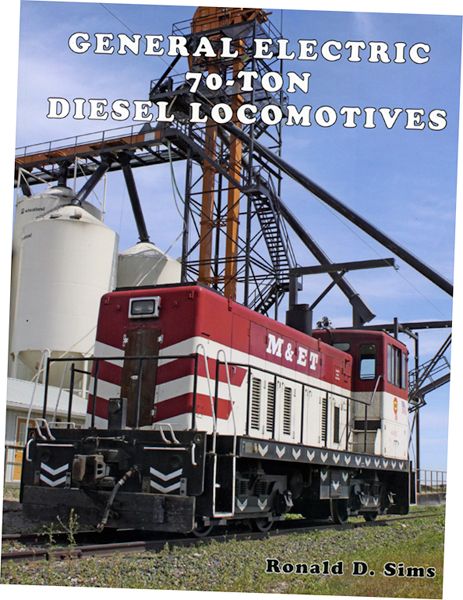 This post differs a little from the standard fare on this blog, as it's not about a specific railway that would be a good candidate for an achievable layout. Rather, it's about a favourite locomotive of mine – one that is ideal for the modest trains that an achievable layout will support.
The General Electric 70 Tonner could be found on many railways, including large ones like the Southern Pacific (21 units) and Canadian National (18). But its real home was on smaller lines. Whether short lines or serving industries with line-haul operations, some 200 examples of GE's bantam-weight road switcher could be found across North America.
Now, author Ronald D. Sims has released a 172-page survey of the 70 Tonner. Published by Shade Tree Books, this softcover contains more than 270 photos and 70 Tons of data about these tiny yet useful diesels.
I learned a lot of neat stuff from my copy, and I was inspired by many of the photos of these locomotives working on short lines, industrial customers, former interurban railways, and the like. Any of these could be the rabbit hole down which a model railway enthusiast could fall in search of a modest-sized prototype that would be an excellent subject for a layout that doesn't become a time suck or a bank-breaker.
Three of the short lines covered here come to mind.
The Modesto and Empire Traction Company in California fielded an extensive roster of 70 Tonners in active service into the 21st Century. I wrote a two-part layout design feature on the METRR in October 2007 and November 2007 issues of Railroad Model Craftsman magazine. I also wrote about detailing and painting HO scale 70 Tonners for the METRR in the April 2004 issue.

The Santa Maria Valley RR is another California shoreline that once rostered a fleet of 70 Tonners to serve a large sugar beet processing plant at Betteravia. Byron Henderson has developed a layout plan based on the SMVRR. And the Santa Maria valley Railway Historical Museum has a nice HO scale layout based on this line, although the website has not been updated since 2006…

Finally, the Fort Dodge Des Moines and Southern Railroad used many 70 Tonners painted in an attractive white and orange scheme that I think did a nice job of paying tribute to its interurban heritage. I've never run across anybody modelling the Fort Dodge line, but I'm sure you're out there somewhere.
Those are three examples – there are many more, as this book on GE's 70 Tonners ably demonstrates. Highly recommended. Give it a look.