The Southern Pacific's Keeler Branch in California was an other-worldly place.
It was a place where whaleback tender-equipped 10-wheelers hauled classic narrow gauge boxcars, gondolas, flat cars, stock cars, tank cars, specialized hoppers and water cars, plus unique cabooses. Trains ran past weather-worn structures and through spectacular scenery that ranged from fertile to desert, framed by the incredible Sierra Nevada, Inyo and White Mountain ranges, to serve small towns and large resource industries.
And, it's a great subject for an achievable layout – in narrow or even standard gauge.
It's a narrow gauge modeler's delight and a scratch-builder's dream – especially for someone looking for an alternative to the Colorado three-foot lines. What's more, the SPNG is incredibly well-documented. There are a lot of top-notch books on the line, including Southern Pacific's Slim Princess in the Sunset 1940-1960 by Joe Dale Morris and Southern Pacific Narrow Gauge Locomotives and Freight Equipment by Robert A. Bader – both published by the SP Historical and Technical Society. While these are my favourites, a number of other books have been published too. There's plenty of information about the SPNG – including hundreds of photos and excellent track diagrams for many of the places along the line.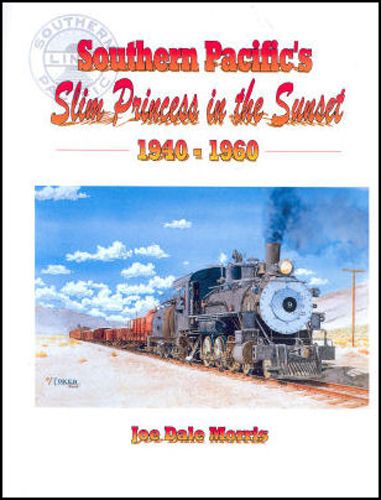 For atmosphere, the Classic Railroad Videos series from A&R Productions includes The Desert Princess. (In fact, it's their best-selling title, according to their website.) Here's a very short clip, courtesy of the publisher:

So what's missing? Well, frankly, there's not much commercially available for the SPNG in any scale. And that's a shame. In Sn3, P-B-L imported some SPNG steam locomotives at one point, but they're hard to find. Here's one that turned up recently in an online auction:

Also in Sn3, Railmaster offers a kit for SPNG locomotives – one that even the manufacturer admits is a challenge: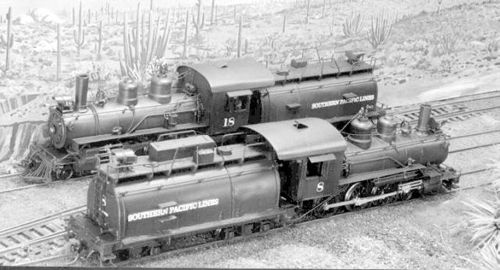 I recall seeing brass models in On3 and HOn3 as well, but as with all things brass they're hard to come by.
For diesel fans, Rich Yoder Models did an On3 model of SP-1 – a GE end-cab unit known as "Little Giant". I wrote a review of this model – also offered in O standard and On30 – for Railroad Model Craftsman magazine, and the review is posted online here.
The rest of the equipment is also problematic. Some craftsman kits exist for freight cars in Sn3. If there's other equipment available, I haven't encountered it. The fact that one can spend a day doing Google searches on modelling this line and turn up almost nothing by way of equipment is most telling of the challenge one would face.
That said, one could use stand-in models. In On30, the Bachmann 2-6-0 is two wheels short but is a suitable small steam locomotive – and the modeller could do some kit bashing and scratch-building to give it a whaleback tender and SP-ify it. And narrow gauge equipment tends to have advantages over standard gauge stuff when it comes to scratch-building. First, it tends to be of simple, wooden designs, which are easier to build that riveted steel cars. Second, a layout doesn't need a whole lot of equipment since narrow gauge freight cars are, by their very nature, in captive service: They don't roam the national rail network, because they can't.
If narrow gauge is not your thing then in HO standard gauge, the Bachmann 10-wheeler would be a decent start for a smooth-running model. Again, it would need modifications to make it more SP-like. Or one could standard gauge the branch and use SP 2-6-0s from Glacier Park Models (O scale), River Raisin Models (S), or Iron Horse Models (HO).
It'll come as no surprise that I have not found many layouts online that depict The Desert Princess. Byron Henderson has created a layout plan for HOn3, which can be found on his Layout Vision website. Better yet, find the Morris and Bader books and work right from the prototype plans they contain.
Meantime, I hope someone of influence at one of the larger manufacturers catering to the narrow gauge community (a Bachmann or a Mountain Model Imports, for instance) grabs the Morris and Bader books and falls in love. It would be easy to do, and both SP modelers and freelancers would delight in models of the SP's narrow gauge 10-wheelers (Numbers 8, 9 and 18 are the most famous), interesting freight equipment, and distinct water cars and cabooses. On3/On30 models would have a lovely presence without overwhelming a layout space, and one could spend a great deal of rewarding hobby time switching the modest yet interesting yard at Laws, California… the transfer yard at Owenyo… or the talc company at Keeler.
Well worth a look if you're in the market for something a little different!