The Ontario Southland Railway is a short line company operating in several locations from Guelph to St. Thomas, Ontario – with a mix of classic short line hauling and industrial park or large industry switching. I was reminded of this when I spotted the February, 2015 issue of Railfan & Railroad magazine: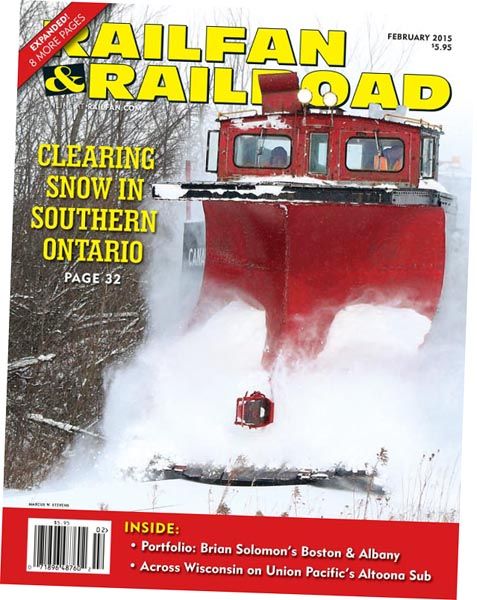 Photographer Marcus W. Stevens has written a great feature on snow-plow operations on the OSR. (You can see more photographs by Marcus W. Stevens – including more of the OSR – on the Railpictures site.)
That's the OSR's 1907-vintage plow on the cover – yes, more than a century old! – and still wearing its Canadian Pacific black and red paint.
Like many short lines, the OSR has an eclectic collection of equipment (and they list the roster on their website), many of it still in the paint schemes of a previous owner. The article, for example, documents the work of a plow train consisting of an ex-Chessie System GP9 and an FP-9 from the Waterloo & St. Jacobs Railway. Other locomotives wear the OSR's maroon and cream scheme inspired by the scheme used on the diesels of the Toronto Hamilton & Buffalo Railway (which was absorbed by CP Rail in 1987)
But I digress…
The OSR offers several potential subjects for an achievable layout. Browse through the company's list of operations and you'll discover everything from modern rural railroading on the St. Thomas Sub … to in-plant switching (about 100 auto racks per day!) at CAMI Automotive (itself along the St. Thomas Sub)… to industrial park switching in Guelph (with a branch to Campbellville). Depending on location, the OSR has connections with the Canadian National, CP Rail, or both.
(Some portions of the St. Thomas Sub operation are featured on the Branchlines in Tradition DVD which I wrote about elsewhere on this blog.)
Whether one is looking for ideas for a single-industry layout or a modern branch line… and whether one wants to model an urban or rural setting… there's a lot of possibility in the Ontario Southland, with interesting operations and a model-railroad-ready variety of equipment.
When people ask me for ideas, I'll certainly suggest the OSR as the subject for an achievable layout. I'd love to see some maps of track arrangements and suchlike, too…