(Mark delivers a load to the coaling plant at Fillmore. Rick's modelling is beautiful and the layout concept is engaging – and definitely achievable)
Earlier this month my friend Mark Zagrodney and I visited Buffalo, New York – in the 1940s, thanks to Rick De Candido and his wonderful HO scale interpretation of a New York Central engine terminal that almost was.
Rick's layout shares the living space in a condominium. As the lead photo shows, the layout is fairly deep so access is needed to both sides of the terminal during an operating session. Rick has built the entire layout on casters so it can be rolled against the wall when not in use. The benchwork itself is executed to a fine finish, making it a pleasant display in the living room. (That said, Rick has fabricated frames and a dust cover to keep the layout clean between sessions. These are removable and store underneath the layout during operating sessions.)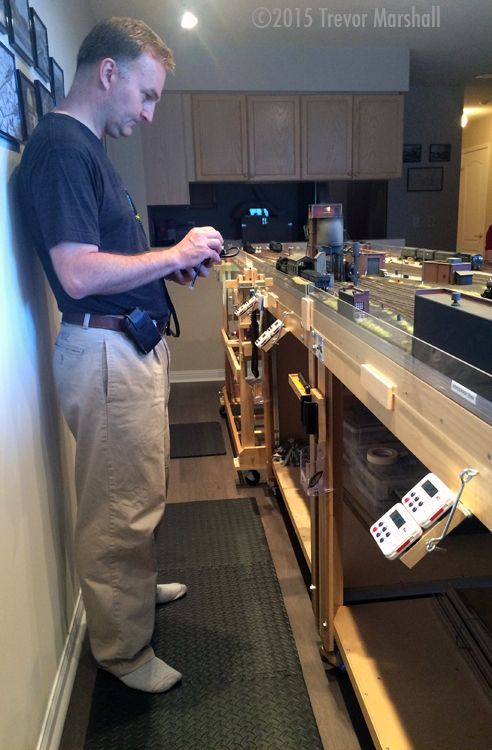 (Mark works in the operator's aisle, created by rolling the layout away from the wall for operating sessions. The finish on Rick's benchwork makes the layout look like it belongs in the living room. He built the benchwork in the condo's hobby room)
Our operating session required three people. Rick worked as the road crews: He delivered locomotives from the rest of the world (staging area) to the first inspection stop, and collected outgoing locomotives from the ready track. Mark and I were hostlers. Mark handled locomotives up to the turntable, while I managed the turntable and roundhouse work.
The staging area features a two-deck elevator moved with an automative-style screw jack: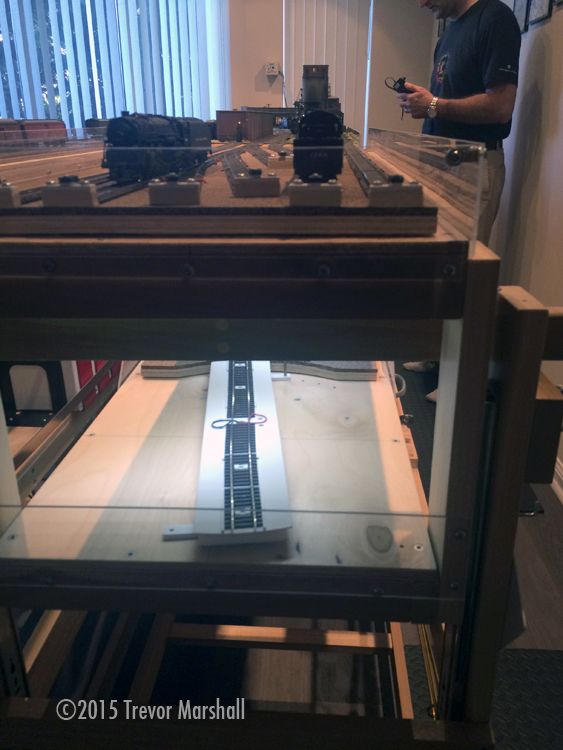 (The two-deck staging elevator)
The lower staging includes a manual turntable for spinning locomotives. The upper deck is used for supply trains – for example, a switcher with a cut of loaded hopper cars for the coaling tower. (Rick plans to swap the order of the decks at some point, since the engine level is used more often and he feels it would be nicer to leave the elevator in the "down" position as much as possible.) Each deck is a traverser table mounted on drawer slides to conserve space.
Rick also worked as engine terminal foreman, writing up assignments on his computer and displaying them on a flat-screen TV which featured a representation of a chalkboard. This can be seen in the upper right corner in this photo: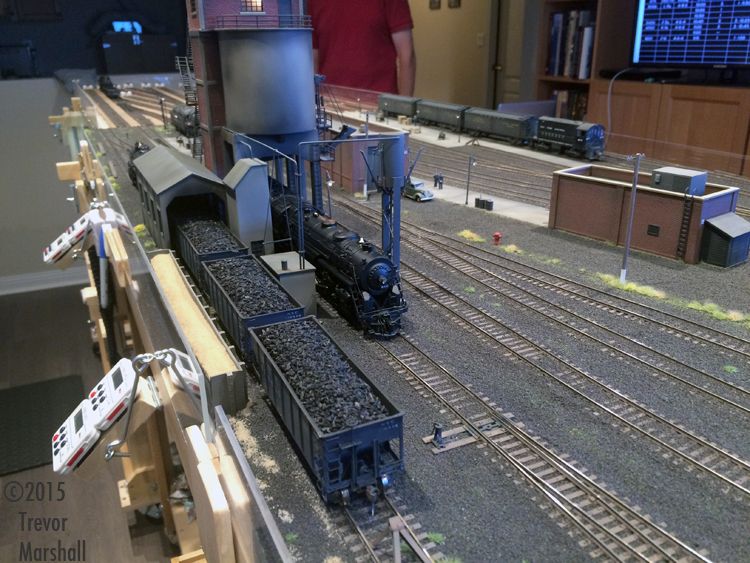 (A cut of loaded hoppers at the coaling tower. A NYC Hudson receives sand and coal on arrival track 1)
Also shown in the photo above are two pairs of digital timers. These have pre-set times loaded into them, and represent the time required to perform various functions as a locomotive travels through the terminal. They're paired because there are two inbound tracks, so each track has its own timer at each work position. When Mark or I spotted a locomotive at a work position, we'd hit start on the appropriate timer and that locomotive would be considered under "blue flag" protection until the timer dinged. We could then advance the locomotive to the next stage of its servicing.
There are several stages to servicing a locomotive. On Rick's layout, every steam locomotive goes through the following steps as it arrives:
– Water and initial inspection (a deck of cards produces the occasional fault, which requires additional time in the roundhouse)
– Coal and Sand
– Ash dump and wash rack
– Lubrication (performed in one of two designated stalls)

(Switcher 7815 is on a service track to work the coaling tower. A cut of cars is spotted, then pulled forward as each is emptied. The streamlined Hudson is on inbound track 2, at the inspection pit. The label on the fascia indicates it will be spotted here for 20 minutes)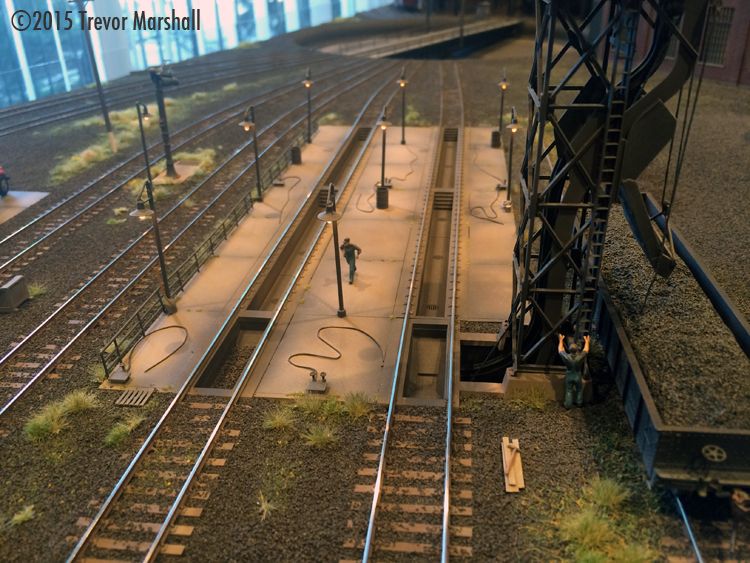 (The ash dump and wash area. A switcher will soon arrive to haul away that full ash car and replace it with an empty gondola. Note the subtle detailing, such as the weeds in the expansion joints of the concrete pad)
Locomotives that are staying for an extended period of time (either because of a fault or because they're not needed in the short term for an outbound train) will then be moved to another stall:

(The roundhouse is cut away at the back, allowing operators to see their locomotives and appreciate Rick's fine modelling)
Departing locomotives are turned on the turntable then staged on two outbound tracks. Here, they receive a top-up of water and are turned over to the road crew.
The layout operates on 1:1 time, and even with several locomotives in various stages of servicing there is some breathing room in the operating session. As it was our first visit, Mark and I used that time to admire Rick's work, talk about the thinking behind the layout, and so on. As more sessions take place, there's an opportunity to fill the time between locomotive servicing activities with some head-end switching: As the photo below shows, Rick has also modelled a portion of the passenger servicing facilities at Fillmore:

(A NYC Alco High Hood diesel spots head-end equipment next to the express platforms. Diners, sleepers and observation cars may be spotted at the brick building to be resupplied)
This segment of the layout is also fed by a traverser table-style staging area. Work here is not as tightly scripted as the engine terminal assignments, so it's an opportunity to spot a car or two before getting back to the main work of the session.
Rick's layout is a terrific example of thinking creatively to design an achievable layout. Many of us, faced with the challenge of a modest space in a living room, would gravitate to a modest branch line terminal (like Port Rowan on my layout), an industrial switching area (like the East 38th Street project by Lance Mindheim) or even a single large industry, like the Pine Street Mill.
Rick took a different approach, eliminating almost all (but not all) rolling stock to focus on the locomotives. This would make a lot of sense for most of us, considering that everybody I know (myself included) has way more locomotives than they need for their layouts. (I once joked that the correct ratio for a model railway is one locomotive per freight car.)
We're attracted to the power – and Rick's answer is a brilliant way to show it off. This is especially true if one enjoys detailing and painting locomotives. (And if that's you, then you should really be watching "Notch 8" – a new series on TrainMasters TV.)
To read more about Rick's layout – and so see a layout plan – pick up the 2015 edition of Model Railroad Planning from Kalmbach. Click on the cover, below, to learn more:
Thanks, Rick, for a great day in Buffalo. I look forward to the next operating session!