On Friday, my friend David Woodhead and I hopped the 506 Carleton streetcar across town to visit Ryan Mendell, for an operating session on his lovely (and achievable) Algonquin Railway. It was David's first visit, and my second. Accordingly, David perched on the engineer's seat while I took on the conductor's duties:

(Ryan (r) points out a detail on the paperwork for me as I prepare for my shift)
Ryan returned to the hobby a few years ago after a long hiatus, but his layout achieves a realism that even much more experienced modellers can't match. I think this is because – either by design or by accident – Ryan has trained his eye to really see what's in the real world, and then learn the skills to successfully interpret it in HO. The good news is, when one pursues the hobby in this way it doesn't take a lot of layout to deliver challenges and satisfaction.
As an example, Ryan decided on this layout that he wanted to learn how to use photo backdrops. This went beyond buying a pre-made offering: he found a suitable location and season for his prototype, took the photos, cleaned them up and stitched them together on a computer, then printed them out. Then, after mounting them on his layout, he took a lot of care to blend the background into the foreground – even painting a road onto the backdrop in one place where it continues off the back edge of the layout. It's very effective, and in the process Ryan challenged himself to go beyond his comfort zone.
David was particularly impressed by the small office at the wood lot, and took quite a few photos of it.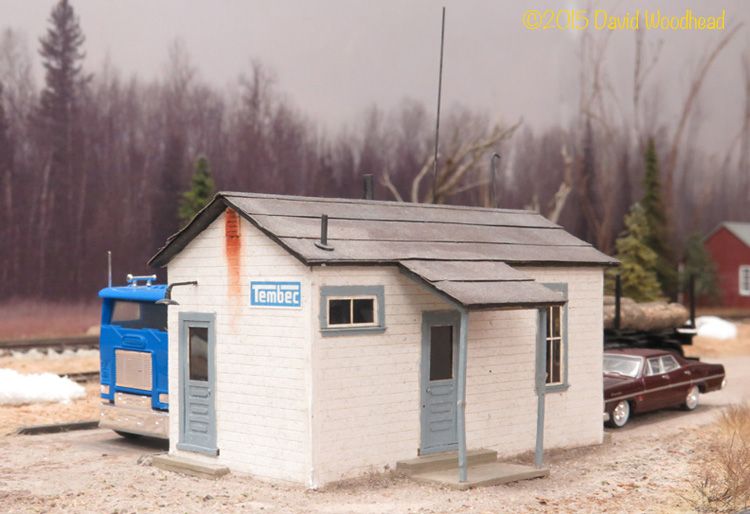 It's a small, simple structure, but I enjoy all the detail that Ryan has added to it – including stacks, vents and a power meter. (Poles and wires will come later.)
The ops session went smoothly. After a visit to my layout, Ryan built his own version of my waybill boxes and generated some half-size prototype-style paperwork to use in sessions.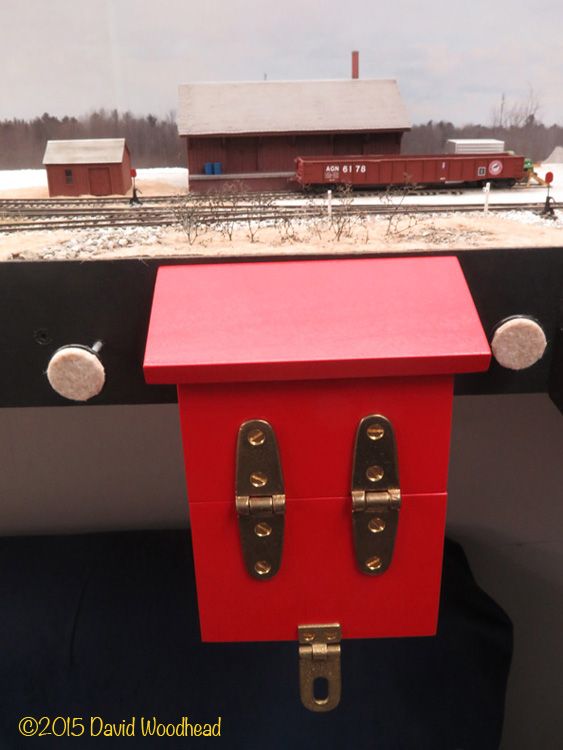 We had a half-dozen cars to move about, and it took about an hour to perform the work. The session went smoothly. Once the work was done, we spent a bit of time in Ryan's workshop, looking at some future projects. I won't reveal them here – Ryan has a blog for that – but his layout can only get better and better.
(Thanks to David for sharing his photos from our ops session.)
—
Afterwards, we retired to The Feathers where I had an excellent roast beef dinner with all the trimmings followed by Guinness Cake – all washed down with a few excellent pints of Ontario craft beer. Realizing that we had a fourth seat at the table, we called up Doug Currie – another friend who lives close-by – and he joined us almost before I could put my phone back in my pocket.
We had a splendid evening out, and it was a great way to end the week. David and I staggered home via streetcar in the wee hours of the morning, and we're looking forward to another visit.
Thanks, Ryan, for hosting us on your wonderful layout!