(I recently designed a layout for a friend based on CP Rail's industrial trackage in Scarborough, Ontario. Click on the image to read more about this design)
Nothing says big city industrial railroading like trackage in the street. So recently, when I designed an achievable layout for my friend Regan Johnson based on CP Rail's industrial trackage in Scarborough, Ontario, I added a bit of street running, including a pair of in-street turnouts.
The prototype did not have any street running, as far as I can tell – but it could have. More importantly, the stretch of in-street trackage will be a highlight on the layout – visually and operationally – so it was an idea too good to pass up.
That said, it also meant Regan would need in-street turnouts. And since I'd never built any, I thought I'd like to give it a go. So I did: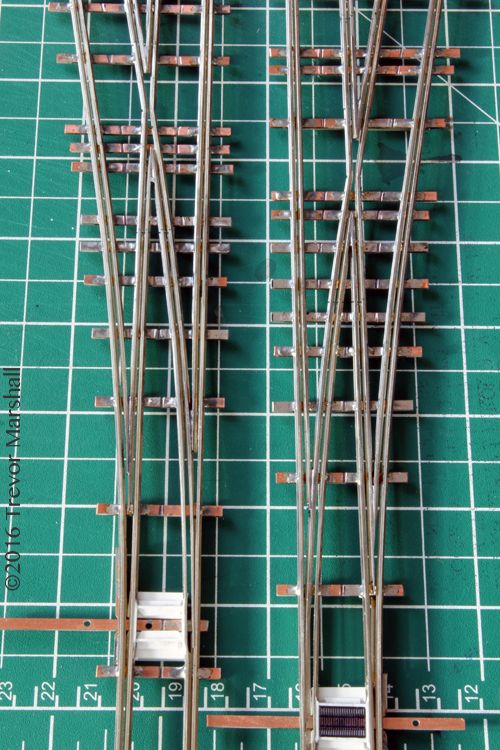 (The finished turnouts, ready for Regan's layout)
The turnouts are both Number 6, in Code 70. They have a single point, and I used Code 70 to create full-length guard rails throughout the turnouts. These guards will allow us to pave the street without getting plaster (or spackling, or whatever we use) into the flange ways.
I started with a Fast Tracks turnout building fixture and other tools, and built as much of a normal turnout as I could using this gear. This amounted to both stock rails, the closure rails, the frog, and one point: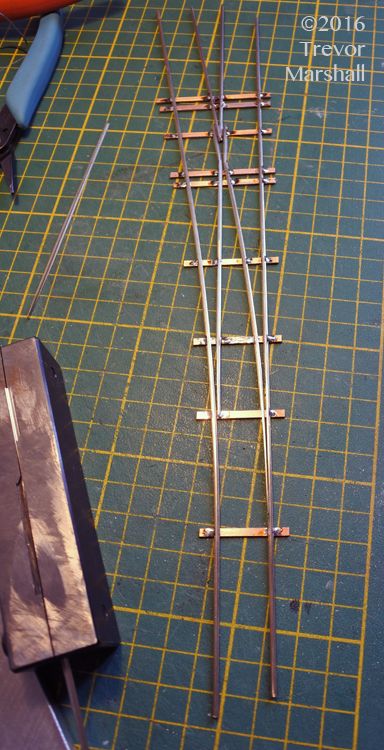 (Out of the Fast Tracks fixture, and ready for customization)
From there, it was simply a matter of cutting lengths of rail to use as guards and fitting them in place by measuring off the running rails. An NMRA track gauge worked fine for spacing the guards while soldering them in place.
The throw bars required special attention. I soldered the single point to the throw bar, then used spare PC ties to trap the throw bar under the opposite rail so that it could not waggle back and forth. Finally, I built up some dams out of styrene to keep the paving out of the throw bar – and used a length of photo etched Farr grille for an EMD F-unit to represent an in-street grate over the throw bar. This is removable so Regan can install and service the turnout, as needed.

(Closeup of the throw bar area. The single point is the middle rail on the left side)
This was a fun project that required a lot of problem solving on my part, and each turnout required three to four hours of pleasant time at the workbench. Anybody who can build a standard turnout using Fast Tracks tools can do one of these as well. They'll help set the scene on Regan's layout, so I'm glad I included them in the design.