(Me and Mark hard at work. Not our best sides!)
On Sunday, Mark Zagrodney and I enjoyed a day-long work session on the CP Rail Scarborough Industrial Track that Regan Johnson is building around the walls of his home office.
I've written previously about Regan's layout, but the recap is that he's building an HO scale layout that I designed for him a couple of years ago. You can read more about it by clicking on the layout plan, below:
As I noted in the linked post, I built two in-street turnouts – serving the spurs along the left side of the plan. These are not, strictly speaking, prototypical for the spur line that's inspired Regan. But I thought the street-running and in-street switching would add significant visual and operational interest, and Regan agreed.
Since they were my idea, I felt it unsportsmanlike to force Regan to tackle the in-street turnouts. Plus, I was curious whether I could build them. So I did – well over a year ago.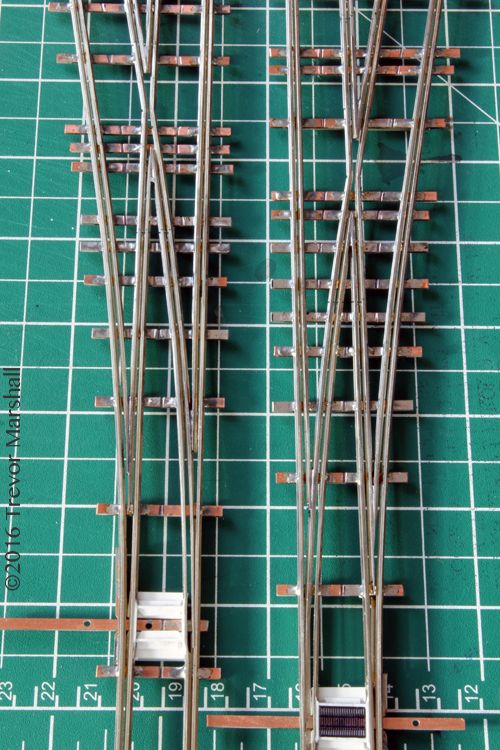 (Click on the image to read about the turnouts)
My goal at Sunday's work session was to finally install these two turnouts and hook them up to mechanical switch machines. Regan, Mark and I worked together on this and by the end of the day, we had two turnouts ready for the paving crews:

(The results of a few pleasant hours of spiking and soldering. The black lines denote the edges of the road)
Regan has been very patient, waiting for this work session to take place. But he hasn't been idle. Almost all of the rest of the track has been installed. In fact, we managed to lay the main through the street in both directions, and link it up to the team track area at the bottom of the plan. There's only about three feet of track to spike in the upper left corner, and the mainline will be finished.

(The roadway is 4.5″ wide – or approximately 33 feet in HO scale. That's enough for a lane of traffic on either side of the track. A couple of truck trailers and a covered hopper demonstrate the clearances and hint at the visual for this area of the layout.)
I'm looking forward to operating sessions on this layout. The street section will be particularly fun, with the switch crew having to tread carefully down the middle of the street, bell ringing and crew ever-watchful for cars and trucks driving too closely to the centreline…