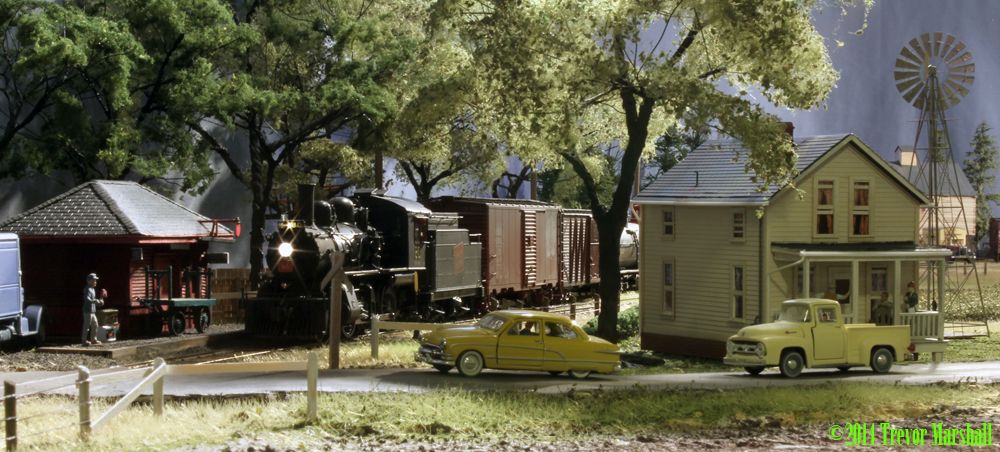 (A single house at St. Williams provides an important clue that there's a town here somewhere)
A reader recently got in touch privately to offer some observations about my layout, having read my article in the February-March 2015 issue of The S Scale Resource. He wrote, in part…
In my mind there are a couple of areas that help to "set the scene". One is the use of houses, making it seem so natural that folks actually live there. Too many times we modelers only include structures that somehow are directly related to the railroad in some way. By your including houses, you set a scene of community.
Thanks! That's a great observation – and it tells me that my use of houses is working because that's exactly what I hoped they would do. For me, the houses provide a clue that the train is serving two towns – as opposed to two industrial districts, or two cities, for example. They also suggest that somebody from "around these parts" might be riding the daily-except-Sunday mixed train, at least some of the time.
What's interesting is that conveying this sense of community doesn't have to require a lot of real estate. On my layout, I have a single house in St. Williams, and two in Port Rowan. (Actually, one house and one mock-up at this time, as the photo below illustrates…)
Those looking for railroads that exist in seclusion can find plenty of examples – from Shay-powered lumber lines to more modern examples such as the Plaster City Railroad, a three-foot gauge line operated by US Gypsum:

(Modern, but with a moonscape vibe. You can also watch this directly on YouTube, where you may be able to enjoy it in larger formats)
But beyond resource haulers and other specialized lines, railroads exist to serve communities – with a varying mix of people and businesses depending upon them. It pays to represent that – to put the railroad in context – in our miniature worlds.