Happy 2014, everyone…
To kick off the new year, I made more progress on the garage that's located across the track from the station in Port Rowan:


(Click on the image to read all of my blog posts about this structure)
As the above photo shows, I have added the roof and shingled it. I used S scale shingles (the peel'n'stick paper variety) from Rusty Stumps Scale Models, including matching starter strips and ridge strips. I applied them in a manner similar to the process I described for the house at St. Williams. I've weathered the roof with weathering powders – including a green powder that provides some variation to the shingle colour.
The garage had a substantial brick chimney. Possibly, there was a hearth for doing a bit of blacksmith work inside. My chimney is a resin casting from Model Tech Studios. The barrels in the loft are HO scale items I picked up at a local hobby shop. Even at 36 percent undersized they'd be pretty heavy if full – so maybe they're empties. Regardless, I like the spot of colour they provide…
I've also modelled the vents in the peak of each end wall. I used some left-over clapboard from the St. Williams house kit – the laser-cut equivalent of a sprue. This was already painted white. I added some stain over the white, then cut pieces larger than the openings and glued them in place on the inside of the walls.
Not as obvious – but still done: I've added glass to all the windows. As I've described previously on this blog, I cut the glass from microscope slide covers. Since the windows on this structure are not assembled from laser cut pieces with peel'n'stick backing, I slid each pane of glass into place and then secured it with very small dots of Microscale's Kristal Klear.
Here are some more views of the finished structure. Click on each to view a larger version: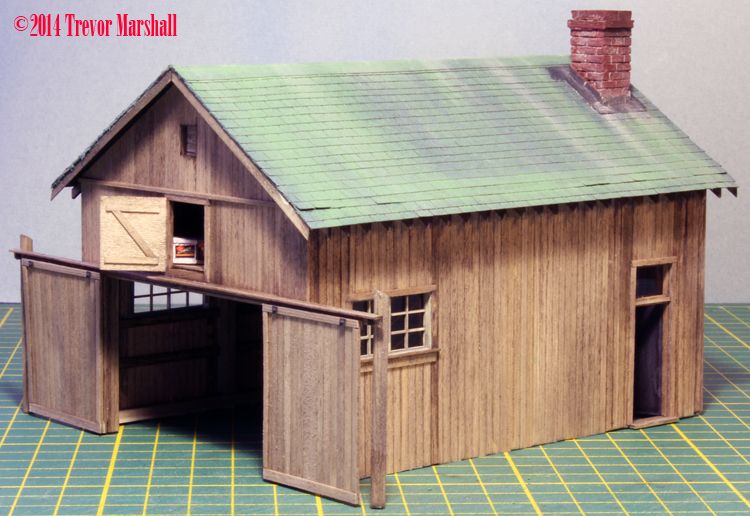 While I would call this structure "finished", it's still only a shell. I plan to build a base for this structure and when I do I'll include some basic interior detailing. This detailing will include workbenches along the walls and a hearth at the rear of the building. This is a foreground structure and I'd like visitors to see the suggestion of an interior when they look through those big sliding doors…