Earlier this week, my friend (and fellow host of The Model Railway Show) Jim Martin visited, along with a long-time friend of his, John Morris. It's been a while since I've seen them – John lives in Manitoba and visits Jim regularly but it's been a few years since we got together, and Jim's been pretty busy with things that have prevented him from coming into the city.
We had a great couple of hours in the layout room. It was John's first visit to Port Rowan in 1:64, so I gave him the quick tour. And it's been a while since Jim saw the layout, so there was a lot of catching up to do.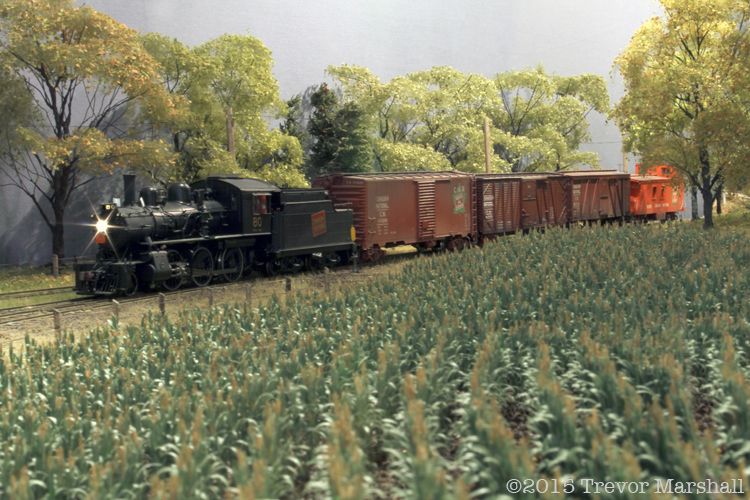 We talked about many things – among them, my use of mock-ups as stand-ins for structures. I like mock-ups not only as place holders but also as a way to test my plans for a structure. Since I'm modelling a specific place and time, most of my structures are based on real building and it's important to make sure I've properly captured proportions, roof angles, and so on. It's far easier (and cheaper) to modify cardboard than it is to re-work a model in styrene and strip wood. And because I know that some of these mock-ups will stay on the layout for some time before I get around to building the structures that they represent, I feel it's worthwhile to invest a little bit of coin and build them using good-quality artist's board in appropriate colours. Some of the mock-ups on my layout have been in place now for about three years, and they still look good.
Of course, we ran a train – although I did not haul out waybills and put the guys to work. John has built and painted many HO scale steam locomotives for Canadian prototypes – he's well-known in the community for his excellent work – and I knew he'd enjoy seeing these larger models of tiny prototypes put through their paces.
The layout really came through for me too, with no derailments or stalling. Other than one or two missed couplings, it was a perfect session. We talked about that, too – and agreed that flawless operation is a goal worthy of pursuing. It's also achievable when one focuses on a smaller, easier to manage layout like mine – and I think that any perceived trade-off in pursuing a simpler-is-better approach is more than made up for by the enjoyment of realistic and reliable operation.
(I remember causing a tempest in a teapot on a newsgroup one time by declaring that this was my goal. I was told "It can't be done", and "Real railroads have derailments too", and other such excuses. But having experienced flawless operating sessions the On3 layout built by my friend Dave Burroughs I knew it could, in fact, be done – and I'm determined to achieve that in my own layout room.)
Smaller, simpler layouts also free up hobby time to pursue special projects that may require a significant investment in modelling time. An example is the "Someday Spreader" I wrote about previously on this blog:

(Click on the image to read about the "Someday Spreader")
My visit from Jim and John occurred the evening before I stumbled across the model that inspired that post. I admire John's work in brass and I realized, while talking with him, that the biggest hurdle to tackling such a project is convincing oneself that one can do it. I suspect that our conversation the night before tipped my hand to purchase the Jordan Spreader and commit myself to building one in 1:64. Thanks for that, John!
—
When my wife finished work, she joined us as we retired to The Caledonian – a terrific Scottish pub in my neighbourhood – to wind up the evening with more great conversation over good food, and a promise from Jim that he'd come for a visit more often. (John – you're welcome too of course, whenever you're in the area!)