First of all… Happy New Year, everyone! I hope you had an enjoyable and safe time as you said goodbye to 2012 and welcomed in 2013.
(My wife and I took part in a wonderful Happy Hogmanay party at our favourite local Scottish pub, The Caledonian. The fun included pipers, fiddlers, delicious food, single malt and a raucous rendition of Auld Lang Syne.)
I'm not one for making resolutions – especially not for the hobby, since a hobby isn't supposed to create extra pressures in one's life. But this one should be fairly easy to keep so here goes:
This year, I will finish the tobacco field in St. Williams.
I already have a good start on this, but it seems like the field is taking forever. That's because there's quite a lot of work involved.
To create the field, I found some lovely HO scale kits for tobacco plants. They're Busch 1221. Each kit includes 56 plants which cover a field of just 3-3/8″ square.
That's a pretty tiny field for tobacco country. To cover a strip across the tracks from the future location of the tobacco sheds, I'm building 10 kits worth of plants. Yep – well over 500 plants. And since each plant has to be assembled from 10 pieces, that's – well, that's a whole lot of time at the bench. (Fortunately, it's a relatively mess-free process using just a handful of tools and some CA, so I don't have to hide from the rest of the household: I can work at the kitchen table and be sociable.)
I've found that building the plants in batches of 16 works best for me. It's enough of an assembly line process that doing multiples goes a little faster and allows for CA to cure between each step.
For the most part, I follow the instructions. I start by cutting 16 crowns and 16 sets of small leaf castings from their sprues: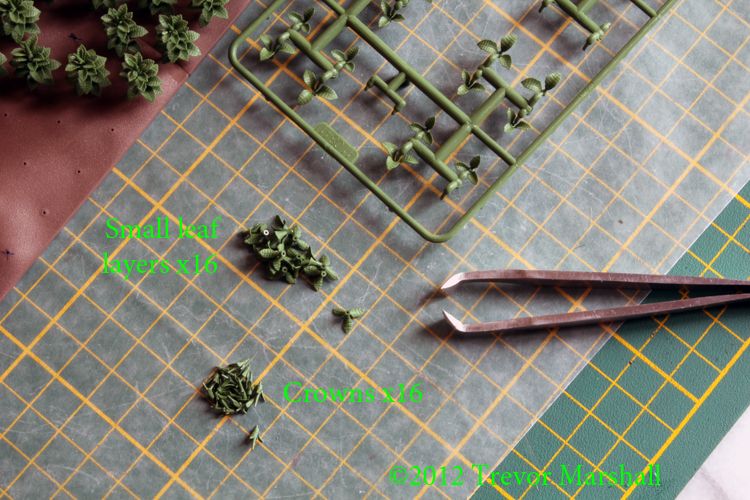 These must then be glued together to create the crown. A pair of fine tweezers helps – I use them to pick up the crown by the top and dip the bottom in a small dot of CA. With a leaf layer in my other hand, and good eye/hand coordination, I introduce the two pieces together and set them aside to dry. Repeat 15 more times.
The next step is to glue a short metal rod into the bottom of the crown assembly. This becomes the stalk of the plant. I pick up each crown assembly with tweezers, dip one end of the metal rod into a drop of CA, then attach the rod to the crown. When I've done this 16 times, my plants look like this:

For the next step, I deviate from the directions. Busch would have me add three more layers of small leaves to each plant. I cut 48 small leaf groups from their sprues, arranged in 16 groups of three. Then, I rearrange the leaf layers so that I end up with eight groups of three, four groups of four, and four groups of two, as shown here:

(I do it this way, instead of completely randomly, because I don't want to get 3/4 of the way through the field and discover that I've run out of one size of leaf. I think the plants will look best if they're fairly similar, but not identical.)
To add the layers, I use a sewing needle held in a pin vise to apply a drop of CA to the stem, just under the crown. I slide a leaf layer onto the stem. Add another drop of CA, add another layer. The plants now appear as shown at left in the photo below. At the right, I have trimmed 64 large leaf layers from their sprues. I've organized them into 16 batches of four to help me keep count, but after I have the pieces I need I'll simply sweep them into a big pile and pull from it to add to the plants. The layers go on the same way as the earlier, smaller leaf clusters and it's fairly obvious, as one adds layers, when to stop:

The assembled tobacco plants, ready for planting, look like this:

(The photo also shows my pin vise with needle. Very handy!)
The brown plastic "field" appears in some of the pictures. Sharp eyes will note I've inked an "X" across some of the holes. On each field square (which can hold 56 plants), I randomly cross out 5-7 holes. I won't plant in these, so the field is not perfect.
When I have all of the plants attached to the field, I will have to airbrush some flat greens onto them to add a bit of variety to the colouring, which looks too uniform and to plastic (understandably, since that's what they're moulded in). I will then dry brush some tan on leaf edges at random to suggest a bit of drying out from the hot August sun. (The field will be almost, but not quite, ready to pick and cure.) Finally, I will have to sift some ground cover over those plastic fields and carefully glue it down. The missing plants will come in handy for that, as the spaces will allow me to insert eye-droppers full of dilute Weld Bond to flood the bases and secure the ground cover.
But that's a task for later this year. I have built approximately 400 plants, but still have 150 or so to do. And that does not include the five kits I have set aside to add tobacco between the kilns and the fascia! The field awaits…

Stay tuned…