One of the things I'm pleased about is that – despite the plaster dust and disorder kicked up by an extensive home renovation – the layout is running well. That's not by accident, of course…
Layouts, like Gru, come with thousands of Minions. They're all the little things that can go wrong, and keeping them on a short leash is one of the biggest tasks for a layout owner. It's also one of the most important.
I was reminded of this earlier in the summer while re-watching the "End of the Line" segment on TrainMasters TV, in which three layout owners tear out large portions (or all) of their creations.
Two of the lessons I took from that segment were:
– How important it is to stay on top of the many little maintenance tasks any layout requires, and

– To be vigilant against the phenomenon of "Creeping Normality".
Of course, there are many positive reasons to tear out some (or all) of a layout, as the "End of the Line" segment also makes clear. But if left unchecked, Minions will take over one's layout – at which point a dumpster (and a good pesticide*) may be the only option.
As I prepared to show off the layout to visitors earlier this week, I gave the track and equipment a quick dusting with a soft brush. I also tested all track switches and loosened up the mechanical turnout controls by operating each of them back and forth about a half-dozen times. And I test-ran the locomotives that would be in service during the session.
It took perhaps 10 minutes to do this, but it made all the difference. If there were Minions about, I was able to keep them under control, and prevent them from creating havoc…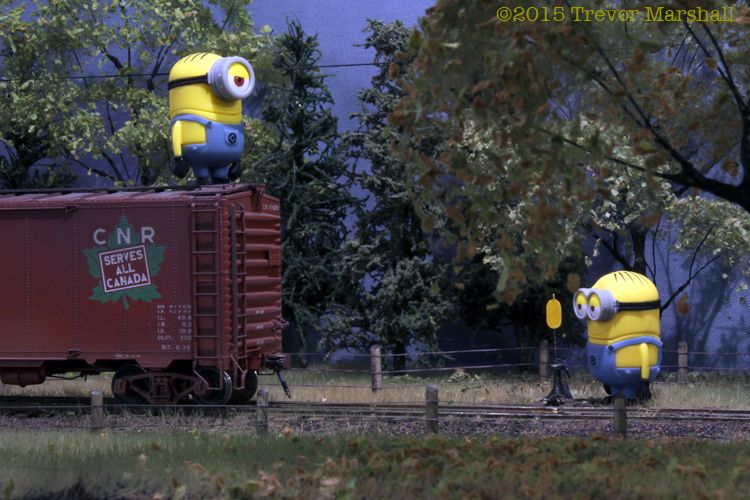 (*No Minions were harmed in the writing of this post)