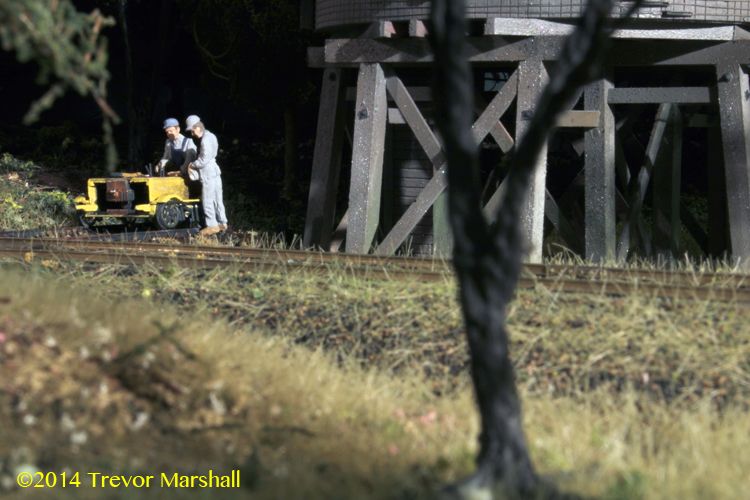 Following some great feedback from readers (you know who you are!) I've added not one but two figures to the speeder setoff scene.
Sometimes, moving figures about a scene can suggest stories that their final placement can tell. In this case, I grabbed my box of figures, sorted about a few likely candidates, and started trying various arrangements.
The guy at left in the above photo has both hands in front of him – I believe he's supposed to be a brakeman hanging on a boxcar ladder. Naturally, I tried positioning him on the water tank's ladder – but then I started to wonder, "What's he doing up the ladder?" "How long is he going to be up there?"
Frankly, he looked hokey.
Then I realized he could be leaning on the speeder – but the question was, why? And what would the second guy be doing?
The second figure provided part of the answer – he's looking down, and wiping his hands on a rag. He looks like he's thinking. And then it occurred to me that if I added one more detail to the speeder, they could be planning their work at the job site. The two figures together look like their having a discussion, and the first figure could be holding down a plan to keep it from blowing away.
It was a simple matter to cut a couple of small rectangles from a paper bag and create some plans for the guys to be studying:


(As the photo shows, I've also stained some 2″ x 8″ strip wood and added it between the rails to make it easier for crews to get their speeder on and off the track.)
Maybe it's a leak in the plumbing? Maybe it's an inspection of the pump? Or maybe the guy in blue is showing off the plans for his new layout? Whatever it is, I think it works.