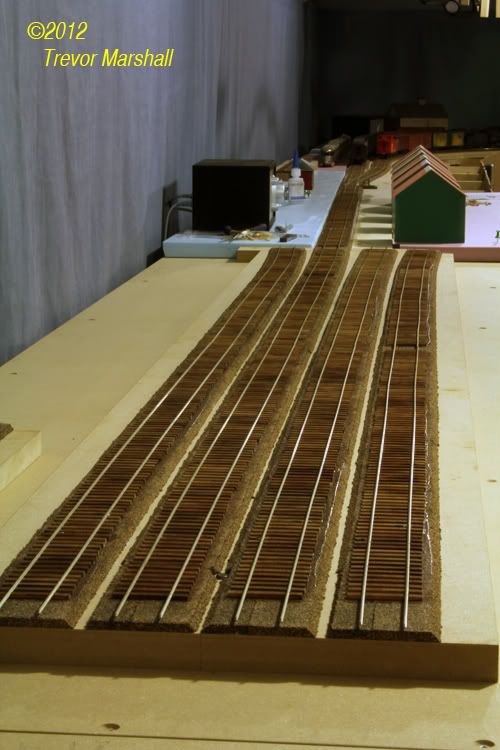 Over the past few days, between other commitments, I have spiked all the rail on the four-track sector plate. It's not completely spiked – only every sixth tie or so – but it's enough to test the track. I will go back and spike it every second or third tie as time permits.
There are a few ties that need to be replaced – they came loose while sanding, but I can stain them and slip them under the rails. There are also gaps at the ends of each track – these will be filled with squares of printed circuit board so I can solder the rails to them. This will keep everything in alignment across the gaps to the main track into St. Williams, and to the cassette used to turn locomotives.
I have also added drop feeders for each track on the sector plate. I removed the plate from its base, then drilled holes for feeders next to each rail, near the pivot point. I made sure these holes were in two lines – one for lefthand rails, the other for righthand rails. I then used a router to cut two slots on the underside of the moving section of the plate, connecting each row of four holes. I then soldered a drop feeder to each rail and bundled the wires in the slots: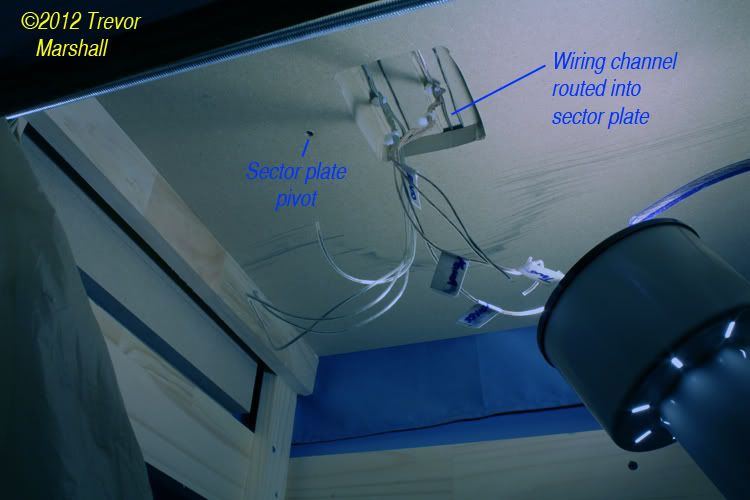 I wired each track separately, so that in the future I can add switches to automatically power only the track that's lined up with the mainline into St. Williams.
While the sector plate was off the base, I cut a square opening in the base to pass the wires through, with enough space to pass a plug as well. As the photo shows, I've added labels to the gold wires so I know which track they power. The silver wires will be wired together as a common return.
I am very, very close to having all track done and wired.