… because the Burro Crane has entered service!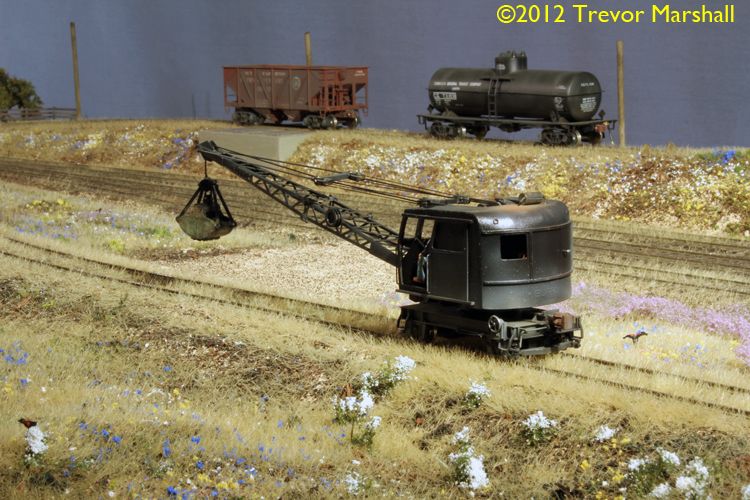 As previously mentioned, I painted the entire crane with CN Warm Black. This is a great colour, but of course an all-black piece of equipment really benefits from weathering to bring out the details.
I used a combination of airbrushing, dry brushing, thinned washes, and weathering powders to finish the Burro.
I sprayed some thinned Rail Brown and Concrete around the base and along the bottom of the cab to represent dirt and dust from the road. Thinned washes of Gunmetal mixed with Leather were added to the machinery (winding drums and such) to give it a bit of a shine like old grease. Some rust-toned weathering powder on the roof suggests that the paint has blistered off near the engine exhaust.
Silver was dry brushed on handrails, the base of stirrup steps and door handles – any place where paint has been worn off through use. Silver was also brushed inside the clamshell and dry brushed on the outside, to suggest metal polished from scooping gravel. I finished the clamshell with brown and green weathering powders to suggest that the operator has been digging vegetation out of ditches:

More Rail Brown was dry brushed on the floor of the cab, where the Burro crane's operator (a figure from S Helper Service) has dragged in mud on his boots:

This was a fun project and with the crane in service, perhaps I can encourage the operator to spread some ballast on the main line through the Lynn Valley…