"…Got a feel for my automobile …"
S scale has its challenges compared to other scales, but one of those is definitely not a supply of good vehicles.
Case in point, today's mail brought a bucket o' M2 Auto-Thentics, delightful die cast that's perfect for a 1950s layout.
I'm fortunate in that Port Rowan was a summer vacation destination for wealthy Americans (and Canadians), so even models in vibrant paint schemes with top-trim features look at home on the roads.
As for my layout, I've added the following:
– A 1954 Dodge Coronet (seen here at the Port Rowan station, next to a Kyosho models Austin Healey):

– A 1956 Ford F-100 with tow truck/plow attachments (at the garage in Port Rowan, with another Healey inside):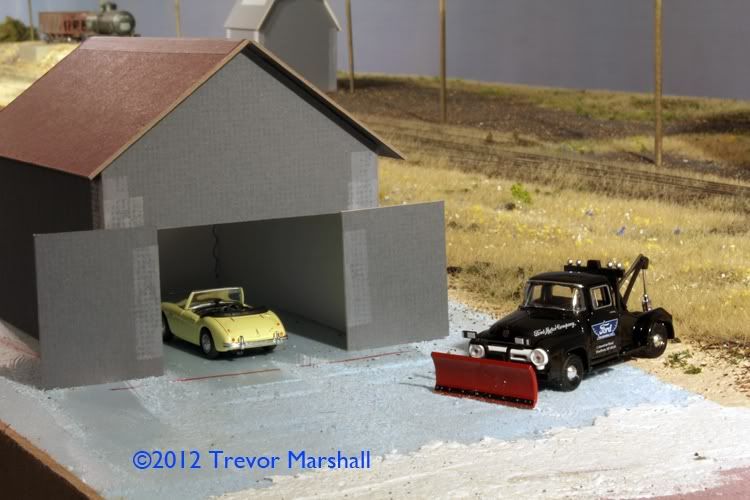 – A 1953 Ford Crestline Victoria (parked at the house on Chestnut street in Port Rowan):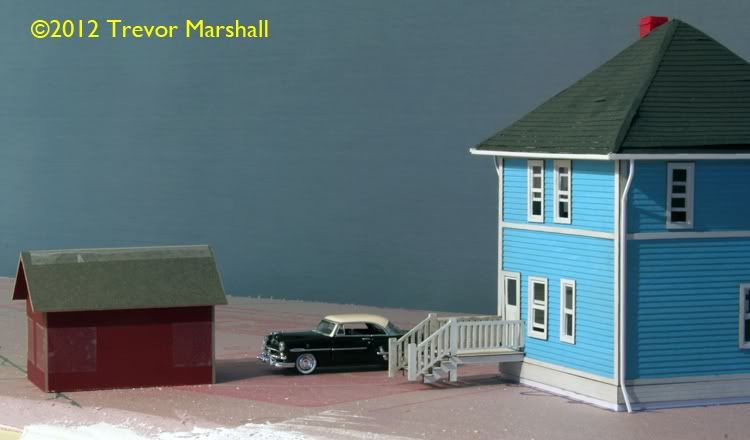 – Four models – including a 1954 Chevy Bel Air, 1954 Dodge Coronet, 1951 Ford Crestliner, and a 1950 Oldsmobile (on Bay Street in Port Rowan):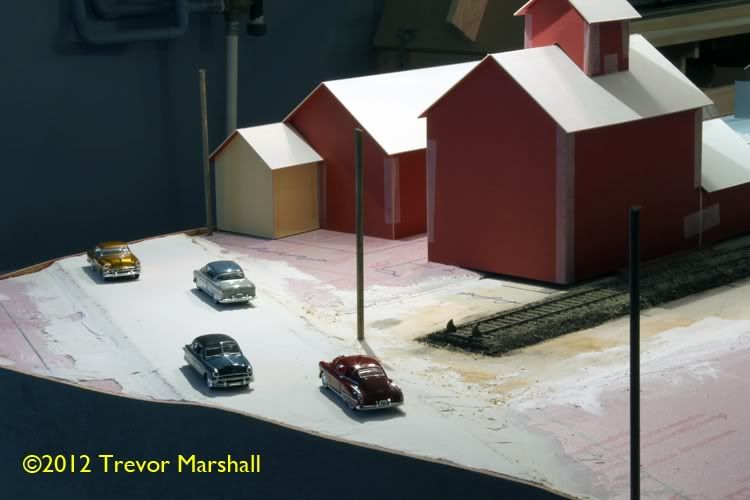 – A 1954 Sudebaker 3R (next to the barn at the team track in Port Rowan):

– Two models – a 1954 Mercury Sun Valley and 1953 Oldsmobile 98 (on Stone Church Road):

– Four models – a 1949 Mercury, 1953 Oldmobile 98, 1951 Ford Crestliner and a 1950 Oldsmobile (at St. Williams):

Most of these came via Amazon, in sets. But if you're looking for some, Hoquat Hobbies in New Jersey has an extensive listing, with pictures, on this web page.
I also have a 1948 Ford F-1 pick-up (at the grain bin in St. Williams). I can't remember who made this model, unfortunately:

That about does me for cars, I think – but I will need to find some more trucks, including commercial vehicles, to park at team tracks.