While I model the CNR in the steam era, I really like more contemporary modelling, too. I spent a lot of time at a more impressionable age watching CNR switch engines of various sizes – up to the GS-412 (SW1200RS) and GS-413 (SWEEP) switchers – working the spur along Louisa Street to General Motors on Ontario Street in St. Catharines. Here are a couple of photos of GS-412 7302, returning from switching at the north end of the plant: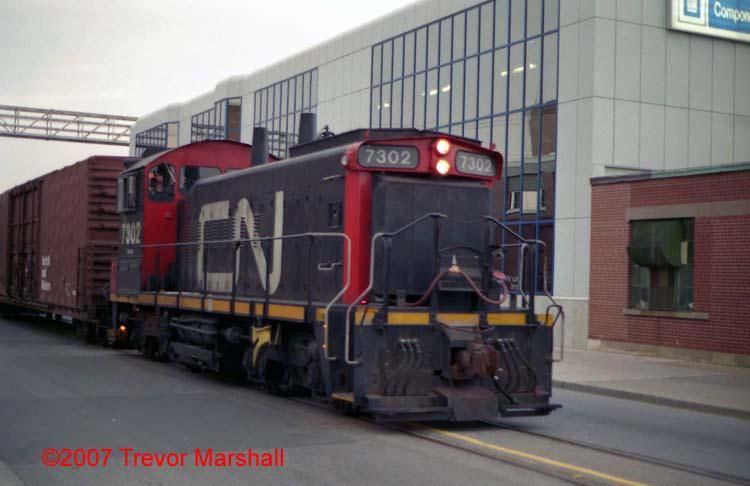 This trackage was part of the former Niagara St. Catharines and Toronto interurban line – and when Pierre Oliver and I built The Peterboro Project Free-mo module, I made a point of decorating my CNR locomotive for units that ran on the St. Catharines lines, such as this HO model of CNR 7302:

The crews were based out of a small yard off the CNR mainline at Merritton – on the St. Catharines/Thorold boundary:

The Canadian National no longer switches in St. Catharines – the lines have been spun off to the Trillium Railway, which has some awesome oddball diesels on its roster (like this one):

(There's a bucket of information about railroads in this part of the world at www.NiagaraRails.com. Enjoy if you visit.)
What brought on this trip down memory lane? A posting on the White River Division blog penned by George Dutka. George is a retired CNR engineer and he recently wrote about heading to work at the railway's yard in London, Ontario one cold looking February day in 1994. (Thanks for posting, George!)
I really like the photo George took: It reminds me just how great the CNR's orange, black and white paint scheme looks in snow. What's more, with the ties buried in snow, the rails just leap out at the eye – as do the details such as switch stands.
Given that winter is such a big part of life in Canada, I wonder why more of us don't model it? Maybe because we spend too much time in the cold months squirrelled away in our train rooms, so we fail to see just how stark and beautiful – and worthy of modelling – such scenes are?