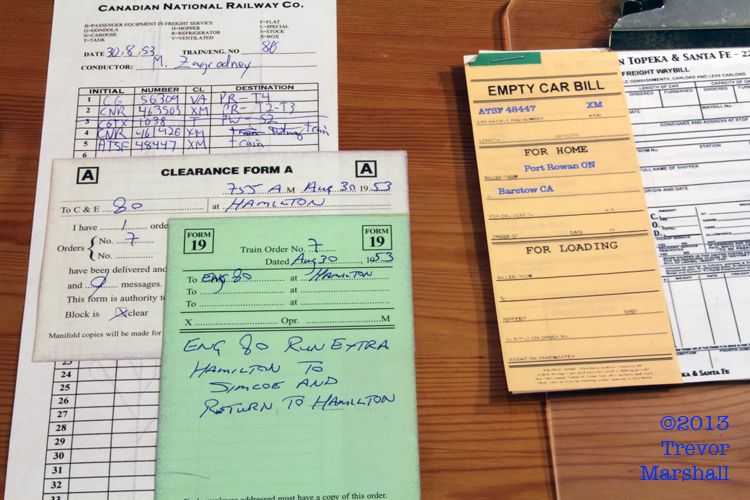 Last night my friend Mark Zagrodney and his teenaged daughter Emily came over for dinner and an operating session. I met Mark many years ago through the Layout Design SIG and he's one of the most well-informed people I've ever met when it comes to operations, so it's always a treat to have him over to run a train.
Mark headed for the van as conductor, while Emily took on the role of engineer. I perched out of the way and played host, tour guide and historian, with only the occasional need to step in and solve a problem: We had one derailment (a caboose that gave me trouble before, so it's going to come off the layout for a closer inspection) and one spot where the rails needed a quick touch from my graphite stick. The layout is working better now that we're out of the stupidly hot and humid weather we had earlier this month.
I've had many friends come for a visit to run trains, but this is the first time I've had a father-daughter team and it was really interesting to watch two people who know each other so well work together. They were like old hands on a job on a real railroad – one that they've done for years together. Granted, the layout is still relatively new to Mark – and it was Emily's first visit – but they weren't also trying to learn how to work with their fellow crew, so they could focus on the task at hand.
I know Mark will come back – and I hope Emily does too. She's an excellent operator. She watched her speed and she made sure she knew where she was going before she started moving the locomotive, so she committed no operator errors. That's something very few experienced layout operators can say about a session on an unfamiliar layout. (Well done, Emily!) Those of us who think we know everything about running model trains should take the time to teach an interested teenager. Chances are, we'll learn as much as our student.
The newly-installed fast clock system worked well – I set the session's start time for 11:00, and the session wrapped up at 15:28, so there was a real sense (for me, at least) that time had passed. And as Mark noted in the comments on my slide-out work desks, having a place to organize his thoughts about the work at hand helped him achieve "a relaxed and deliberate state of mind". I've noticed that too, already, in my own solo sessions, so I'm really glad I built them.
I'm looking forward to the next visit from Mark and Emily!
—
For dinner, we enjoyed delicious burgers with potato salad and coleslaw. I can call them "delicious" without sounding like I'm praising my own cooking because I didn't have time to make burgers from scratch – and in any case, the patties from Rowe Farms are very hard to beat. My wife and I did make the salads, based on a couple of favourites we've picked up from Cook's Illustrated. A bottle of vino verde was a delightfully refreshing pairing for a summer evening.
While we often go out for dinner these days, I used to cook a lot more when hosting work nights or operating sessions and I need to get back to doing that. For one thing, dinner was timed perfectly – Mark and Emily had just pulled Extra 80 West into Port Rowan, checked for waybills, and written up their switch list, when we all decided we were hungry. The time on the fast clock was about 13:00 if I recall correctly, and I know from reading about the prototype line that the crews would take a break in Port Rowan for lunch – and even a nap, if time permitted. Talk about a relaxed way to run a railway – and a stress-free way to operate a layout!