It sounds like the name of an ergonomic screwdriver or newfangled bicycle seat – but as the picture above shows, I've been installing the fabric valance over the layout. Named after my friend Pierre Oliver (who suggested I take a theatrical approach to framing the scene), The Oliver Ouchless won't bash my skull when I lean in to work on the layout.
All photos in this post were shot at my eye-level, so they show the layout as a typical operator would view it.
The photo above shows St. Williams to the left and ahead, and Port Rowan to the right. Putting the operating aisle in shadow like this really throws the attention on the layout. I'm very pleased with the effect, which will be even better when I paint the fascia black to match the valance.
My wife and I are sewing the valance in sections to fit around various ceiling fixtures such as pipes and ducts. We have most of the major sections done, which have a 16.5″ drop from the ceiling. There are a few smaller pieces to do between these large sections.
Sections are attached to the previously-installed valance supports using Velcro. I'm also putting short strips of Velcro at section ends to link the sections together: This keeps light from leaking between them.
And since the valance is sewn from a doubled-over piece of fabric to ensure that the layout lighting does not bleed through it, it's also easy to insert a length of chain into each section to weight the valance. This helps the valance to hang straight. I bought some chain to test this and I'm happy with the result. Some of the valance sections are so-weighted: Others will get chain tomorrow, when I pick up more at the local hardware store.
More photos below. Thanks for the idea, Pierre – The Oliver Ouchless is perfect!
East end of the Lynn River scene


(This area will benefit from a lot more trees)
West end of the Lynn River scene, and the water tank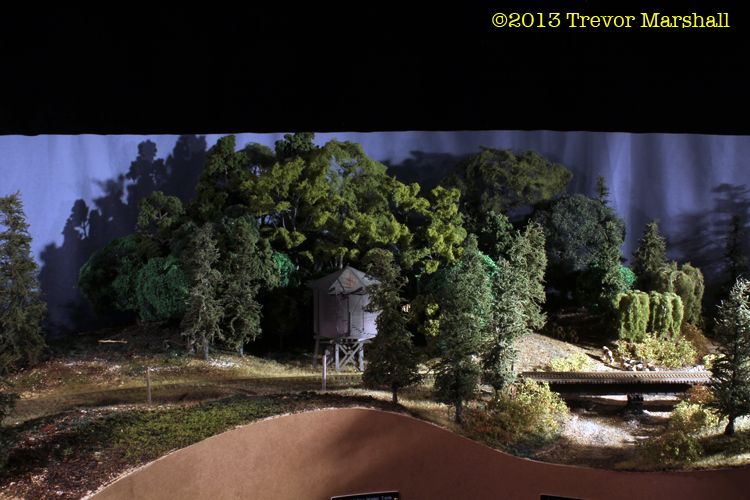 (Note how little of the backdrop is visible when valence and trees are in place)