It's Friday and I'm angry: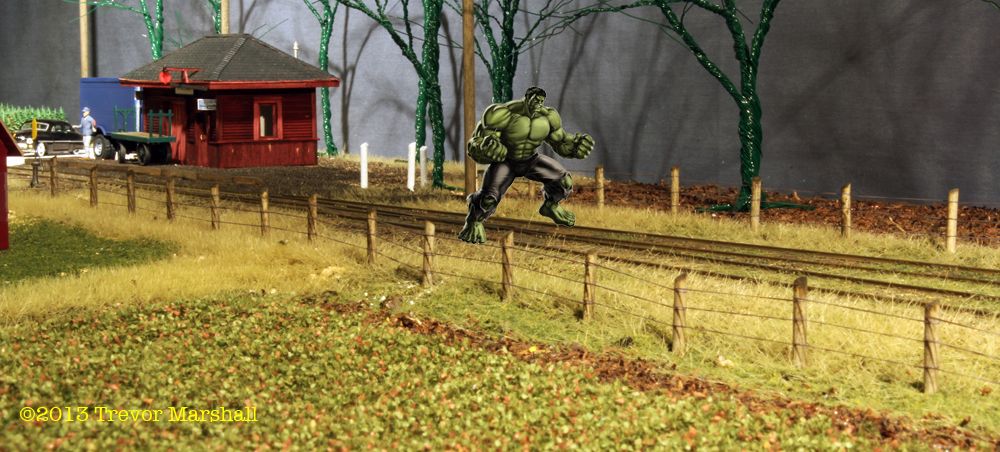 I'm expecting a package today from a hobby shop in Florida, and I'm angry because it's a product I should've been able to buy locally – or, at the very least, directly from the manufacturer. The product itself is not important, but here's what happened.
I ran out of a product while working on a project. Knowing that I'd seen the product at one of my local train stores – which is likely the biggest store in Canada that caters to the model railway hobby – I called to see if they had it in stock. Not only were they out of it, but they told me the manufacturer had gone out of business.
This is not, in any way, the hobby shop's fault.
Well, I found the manufacturer online, and emailed them. Guess what? They're still in business – and they confirmed that my local store was one of their dealers. I pointed out that the store was not listed as a dealer on their website – they said, "Oh, yeah, we should do that". I also pointed out that the store – did I mention the largest train shop in Canada? – thinks they're out of business. The manufacturer was not forthcoming with a "Thanks for letting us know – we'll get in touch with them right away" – instead, they seemed somewhat put out that I'd made extra work for them.
As I've noted, this is not the hobby shop's fault. They provide excellent service and the onus is on all manufacturers to maintain a healthy and active relationship with their dealers.
Having settled the hobby shop issue, I next told the manufacturer – based in New England – that I wanted to order three packages of their product. I asked for a price, including shipping. Despite their web site noting that they ship internationally, I was told they would only ship to Canada for a minimum order of 20 packages.
From this, I assume three things:
– First, the manufacturer doesn't understand the "handling" part of "shipping and handling costs". I know it's going to cost more to ship across a border. I'm used to that. I didn't ask if it was going to be expensive or a pain to deal with customs. I know it means they have to make a trip to the post office to get a price for shipping and to fill out a customs declaration, and that I might have to pay taxes on my shipment when it's imported. I asked, "How much for three packages, plus shipping, and how can I pay you?" In fact, shipping from the Florida hobby shop accounts for 40 percent of the total cost of my order – and I expected that.

– Second, the manufacturer isn't serious about being in business. Canada has 10 percent of the population of the United States, and we're darned easy to get along with. Shipping across the border is routine. Payment forms – from PayPal to credit cards – handle the exchange automatically and for those who are wary of merchant fees, there are bank drafts and postal money orders. For hobby stuff, shipped to individuals, there are very few hoops. At the same time, it's fair to assume that catering to the Canadian market will add 10 percent to an American company's revenue. Even if it's half that – five percent – that's an awesome addition to the bottom line for very little additional effort – especially when the current economy is so tough on small companies that cater to non-essential markets like "people who play with trains". In tight economies, discretionary spending goes over the side – so manufacturers of stuff like model railway supplies need to work harder to keep their existing customers and attract new ones.

– Third, the manufacturer doesn't understand the power of the Internet to boost their business – or, conversely, to destroy it. I'm not going to publicly identify the company that's being so damned stupid about this. But others will. And their outdated website with no easy means for people – even within the United States – to order product means people will go elsewhere. My order from a hobby shop instead of direct likely cost this company 40 percent of the sale, in the form of the retail markup. Failing that, I could've substituted a different product – or done without. Finally, I will give them credit for at least knowing how to use email. I've had dealings with a number of companies with websites that have never returned email inquiries. Or, rather, I've tried to have dealings with them…
As I said, I won't name and shame the manufacturer. They have enough problems, apparently.
Instead, I will continue to use my blog to recommend companies that have provided excellent service. It's not hard to do – many companies do it very well, even the single proprietors who manufacture, package, ship, market and handle all customer service, solo. Even companies that have no web presence, in fact. Several times on this blog, I've mentioned the excellent service from Wild Swan Publications – a company that does things the old fashioned way: by telephone or snail-mail. I would rather deal with them than the company that's online, but clueless.
As for the company that has so frustrated me: Are you serious? Are you serious about being a hobby supplier? If you are, then smarten up. If you're not, then sell your intellectual property to someone who is, and go away.
Thanks, everybody – I just needed to get that off my chest. Please don't ask me to name the manufacturer, and please do not share your own horror stories in the comments – I'll just delete them. But do let manufacturers know when they fail to serve!