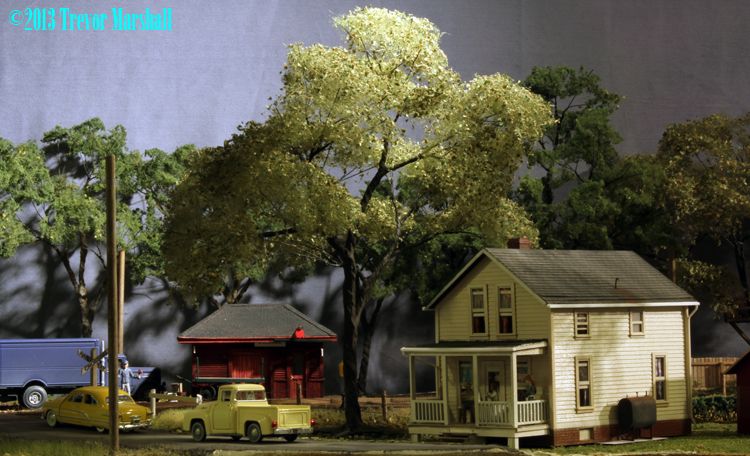 I closed the year 2013 on a quiet note, detailing the white house at St. Williams.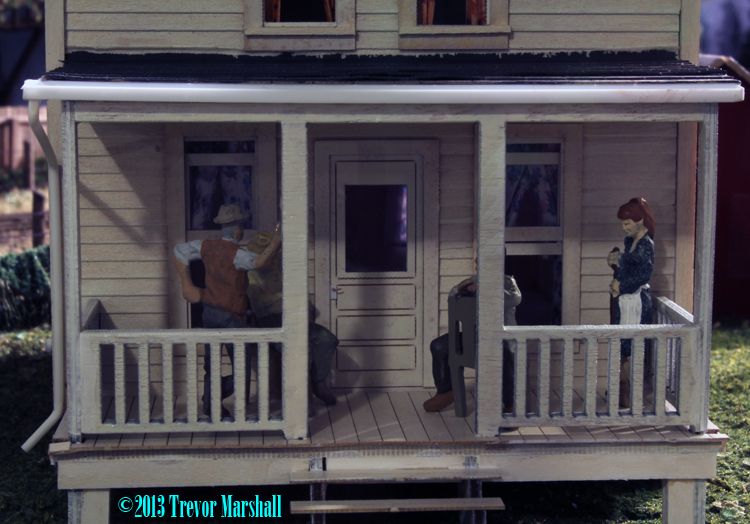 The above view shows a number of modifications I've made to the stock Finley House – an S scale kit from Branchline Trains. From the top down, these include:
* Sills added to window frames (strip wood) – all windows upgraded;

* Eavestroughs (built up from styrene angle) and downspouts (bent from styrene rod) – one across the front of the porch roof, plus one on either side of the main roof;

* A door knob and striker plate (fabricated from wire and styrene strip) – also added to the back door; and

* A more substantial porch, with framing below the deck and thicker legs (strip wood)
There's a confab happening on the porch, involving four figures from Arttista. I used catalogue numbers 725, 743, 791 and 792 for this. They must be in deep discussion as they're ignoring the traffic going by…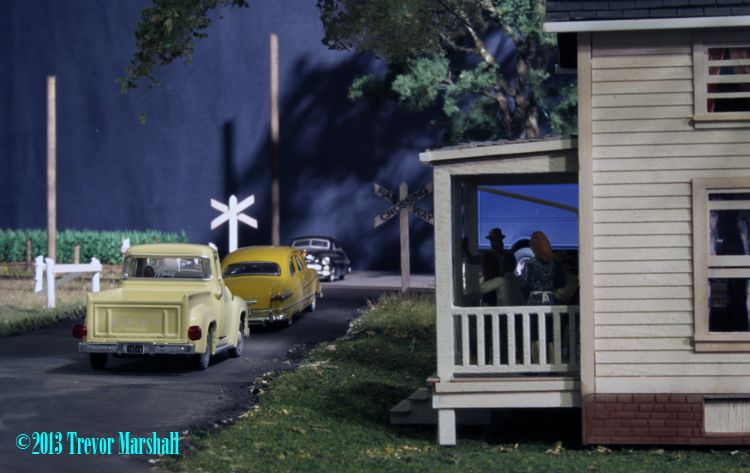 Here are several additional details which can be seen in these four photos:

The main roof has the kit chimney, plus two vents for the plumbing stacks for the kitchen and bathroom. These were bent from brass wire and glued into holes drilled in the roof, then painted. Some weathering powders on the roof add a touch of rust below each pipe, and a touch of moss on the side sheltered by the tree.
The oil tank is kit 2104 from TractorFab. It's a very nice laser cut kit that took about a half-hour to build. I'm not actually sure what it's doing on this house – it wouldn't be furnace oil because that would never flow in the winter from an outdoor, uninsulated tank like this. (Maybe that's what the confab on the porch is about?) But it looks good, so there it is.
The electric meter is detail part S5024 from Wiseman Model Services. I added a taller stack made from wire. When I plant this house permanently, I'll run the power line from this stack to the utility pole across the road.
Planting the house on the layout will require building up the ground underneath it, adding a sidewalk to the roadway, adding a driveway next to the house on the side with the oil tank, and some landscaping to blend the house into its environment.
Finally, I I want to build a garage to complete this scene. Branchline has some lovely examples in HO. Unfortunately, they're not offered in S. I might have to buy an HO version and use it as a study model to scratch-build my own…