Having recently started my models of the tobacco kilns for St. Williams, I'm now paying more attention to the kiln scene on the layout. And I'm pondering whether five is the right number of kilns to build. I might only need three.
It's not a question of shirking from the task: I enjoy building structures. But I moved the mock-ups around on the layout a bit today and took some photos – this is the advantage of mock-ups, after all – and I'm of two minds.
I still like the look of five better. It helps convey the impression that this is a big-time tobacco operation – the sort that might take advantage of rail service via the team track in St. Williams:

But to achieve this look, I'm forced to place the kilns much closer together than they are in real life. For the five-kiln arrangement, the kilns are spaced "one kiln-length" apart – like this: K # K # K # K # K. Here's a photo showing the spacing:

When I measured my prototypes (in Scotland, Ontario a couple of years ago), I also measured their relationship to each other, and they were spaced "two kiln-lengths" apart – like this: K # # K # # K # # K # # K. While more prototypical, this creates a much more relaxed view as the two photos below demonstrate.
On the plus side of the "three kiln" argument, the spacing allows one to see more of the main track behind the kilns: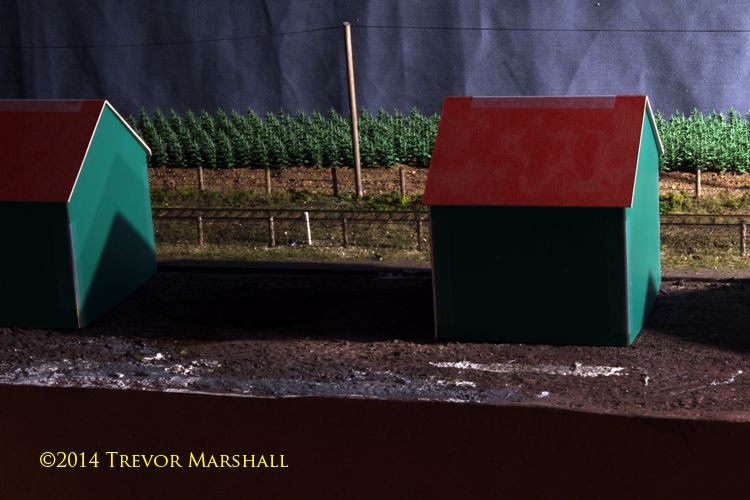 On the negative side of the ledger, the overall scene looks too small to my eye with just three kilns:

I won't do four, since identical objects look better to me when they're clustered in odd numbers. And I must also be cognizant of the practical purpose of these kilns, which is to serve as a view block and distraction – drawing the eye away from the train as it exits the layout and enters my open yet unlit staging area.
I expect I will still build five kilns, which is what I've started. But it's something to think about, nonetheless…