(Who wouldn't want to play trains with these guys?)
S Scale Workshop member Simon Parent suggested that the group exhibit at The North Shore Train Show – a new show in Laval, Québec – and the group has agreed.
The show takes place October 4-5 and according to the show's web site, that's 133 days away as I write this.
Is that time enough to build a module? How about two?
Well, I'm going to try.
Fortunately, my module designs are pretty simple. The Workshop already has plenty of modules featuring towns, industries, passing sidings and so on. What's really needed is some open country running. So I'm planning two module sets, each featuring single track mainline. No turnouts – no significant structures – just 20+ feet of additional room for my fellow Workshop members to show off their fine locomotives and rolling stock.
One module will feature a level crossing in a rural area – something like this:

I chose the name "Division Street" because there are a lot of those in Ontario, and they tend to extend out of towns and into the countryside. This will be a place for trains at speed to blow for a crossing, and the rest of the module will be given over to meadow, similar to what I've built in Port Rowan on my home layout.
The other module will feature a farm – or part of one: I'll create a slice of pasture to either side of the track, with a cattle passage/culvert linking the two. I chose this scene because of a wonderful photograph from the Toronto, Grey and Bruce Railway, published on the Old Time Trains website:


(Click on the image to read more about the TG&B Ry at Old Time Trains)
"Judge Farm" sounds like a good name – and I don't think TG&B/CPR fans will mind that CNR trains use this crossing, since it's typical of many in the region.
(The Old Time Trains site notes that the abutments still stand – and includes a photograph of them taken in 2006. I would love to visit these first-hand: If you know where they are and can give me directions, can you get in touch? You can use the comments section for this post, or the contact form at the bottom of this page. Thanks in advance!)
—
Rather than build modules with an arrow-straight track through the middle, I've designed each module with a broad radius curve. I drew the modules free-hand, but Simon put my plans into CAD and the curves work out to something north of 33-foot radius – so trains should look really good on them.
The modules will be made up of several sections – two sections four feet long by 18 inches wide, and two trapezoids 18 inches long, 18 inches wide at one end, and 24 inches wide at the other. The trapezoids bring the modules back out to the Workshop standard of 24 inches wide at the interface points, while the 18-inch width through the module allows me to rack and stack both of them in my vehicle.
Each module set will assemble into a chevron shape. This makes it compact to store and transport, while allowing for the broad curve. A chevron is much more stable than a long, skinny rectangle – important when exhibiting in public, especially when the railhead is 50 inches above the floor and the module is only 18″ deep.
Here's the preliminary sketch for Division Street, with some key dimensions labelled:


(Click on the image for a larger view)
I'm still debating that abandoned interurban line, but it would give me an opportunity to do some of the "ties in the weeds" detailing that I have done on my Port Rowan layout so I'll incorporate it if time allows.
Here's a preliminary sketch for Judge Farm:


(Click on the image for a larger view)
While the plans look simple – barren, perhaps – I have some ideas to add commonplace details to provide plenty of things to look at, without crowding the scenes.
—
The two chevron shapes will allow for more flexibility than two rectangles when setting up at shows. The two modules are designed to set up in various configurations, including:
– a very long curve
– an S curve
– a reverse S curve
– two short curves separated by one or more modules
Here are some examples of potential set-ups: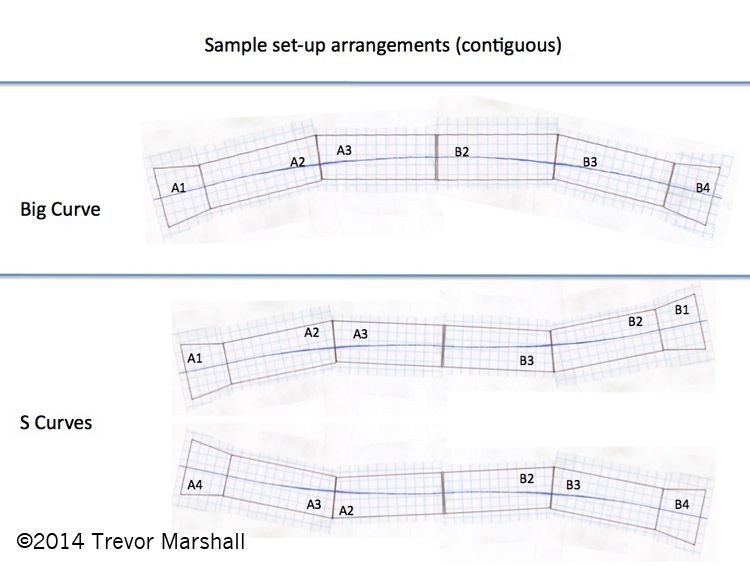 —
I've made a shopping list and I've started to recruit The Usual Suspects for various parts of the construction. I'm starting with my friend Pierre Oliver, who will help me build the module frames and legs. (Okay – let's be honest: I'll be helping him.)
Pierre does not model in S scale, but he has forgotten more about building transportable stuff than most of us have ever learned. Together, we have a fair bit of module-building experience – including the summer we built The Peterboro Project, and our mutual participation in the CASO Free-mo group.
We work well together – we Get Things Done – so the benchwork will be ready for track and terrain in no time.
Which is good – because we're counting down: 133… 132… 131…
—
I will share some progress reports here, but because it's not crazy enough to build 20-something feet of module in four months, I've also been talking to Barry Silverthorn at TrainMasters TV about documenting the process.
Barry is putting together a top-notch show with professional production values and buckets of information and entertainment – so be sure to check it out:

Of course, I'll continue to work on projects for my Port Rowan layout during the next four months, too – so there will be a lot to share here.