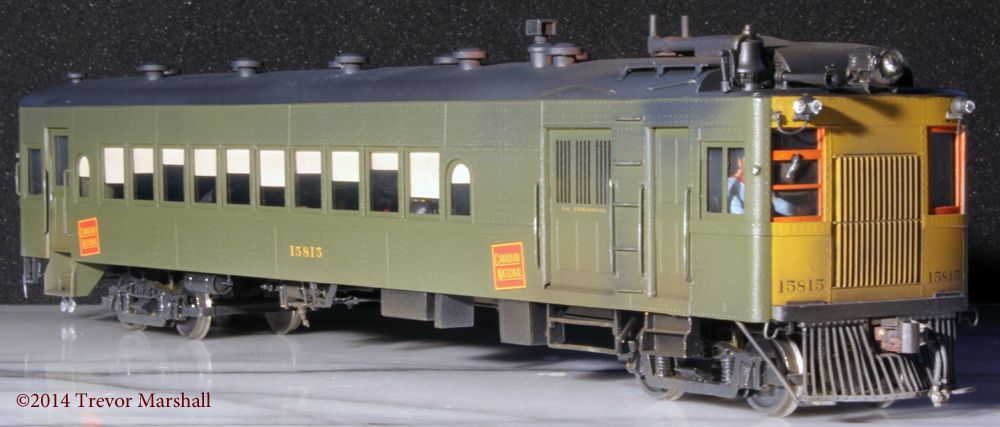 Yesterday I put the finishing touches on my CNR gas electric, and this morning I applied a coat of weathering to finish the model.
Details included MV Lenses in the class lamps, secured with Miscroscale Kristal Klear. I also added some Kristal Klear around the LED headlight to fill the gap between the LED and the headlight housing:
Other details include glass (cut from microscope slide covers) in the windows, and window shades made from a cream-coloured envelope. Window glass and shades were installed using Kristal Klear, which does a terrific job at this sort of thing. There's no glass in the baggage doors, as they're the location through which the DCC sound system is ported:
Working through a hole in the bottom of the rear vestibule, I was able to add seven panes of glass to this area, although I did not attempt to add window shades. I don't think they'll be missed…
I weathered the model with a mix of powders and airbrushed paint. I like Vallejo military colours for weathering since they dry dead flat. Some black powder did a nice job of dirtying up the air intake louvres at the front of the model, while some rust powder – oversprayed with Vallejo's black-grey – created a subtle exhaust and rust look on the roof:
I'm really pleased with how this model turned out – and I enjoyed learning about the CNR's fleet of self-propelled vehicles in the process. I look forward to putting CNR 15815 into revenue service in the near future!