(Marty McGuirk ponders some difficult choices – click on the image to read about how he is rethinking White River Junction)
One of the things I love about blogging is being able to follow the thought processes of others as they tackle the challenge of fitting their vision into the reality of their layout space.
This is especially challenging when one is determined to faithfully model a specific prototype, as I have done. Port Rowan is so modest – it was one of the smallest terminals on the CNR in southern Ontario in the 1950s, which is one of the reasons I chose to model it. Even so, it required a huge amount of real estate to model "properly" – so much that I had to employ a backdrop made out of fabric so I could easily access the rear of the scene for construction and maintenance (but fortunately, not for operation):

(A short freight departs Port Rowan. The blue fabric backdrop fades from view when running trains. Click on the image to read more about creating the fabric backdrop)
While I'm pleased with Port Rowan, I'm less satisfied with my rendition of St. Williams. I only have one prototype photograph of the St. Williams station and I was determined to model the scene as shown in that photo – but in order to do so, I had to put the station on the "wrong" side of the track. And while the prototype and my model of St. Williams both have three turnouts to create a double-ended siding and a spur, the physical arrangement of these elements on my layout differs from the real thing: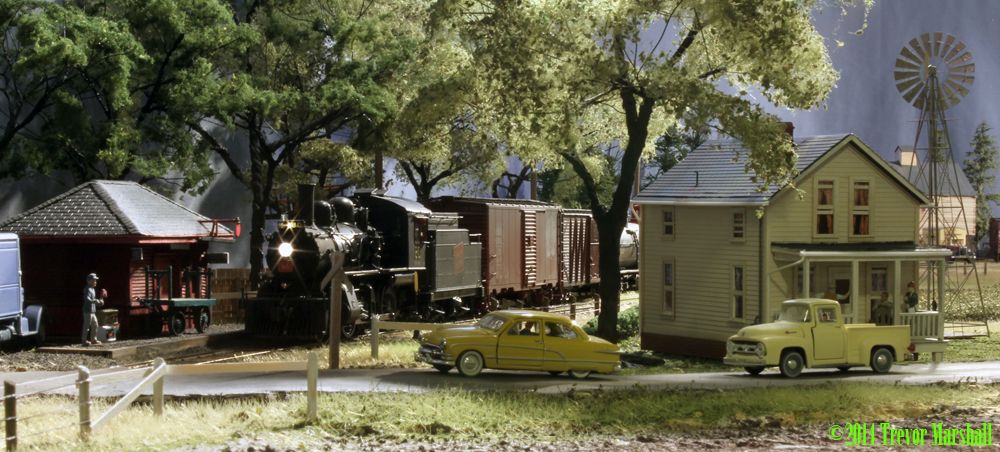 (A freight extra rolls past the St. Williams depot. This is one of my favourite scenes on the layout, and I would lose it if I modelled St. Williams more accurately. I've written about this dilemma before – click on the image above to read about Rethinking St. Williams)
Now, with two locations and a total of eight turnouts to juggle, my design decisions were relatively easy – even in 1:64. Imagine the juggling required when one is trying to fit a major junction point and yard into a layout space!
This is the design challenge that my friend Marty McGuirk faced when he decided to include White River Junction on his HO scale version of the Central Vermont Railway. Having built a version of it, Marty has identified several reasons why his design bothers him – both operationally and ascetically. And he's been brave enough to share the problems via his excellent Central Vermont Railway blog. Go have a read – and then spend some time looking around his blog.
Having rebuilt many other aspects of his layout – including tearing down a double-deck design in favour of a single deck – Marty is not afraid to scrap what he's done in the interests of improving his layout. I agree with his approach, 100 per cent: layouts are learning experiences and should evolve as we gain knowledge about what works and what doesn't.
I'll be watching his progress on this closely. Marty's effort might even inspire me to revisit "rethinking St. Williams"…