Too late, Johnny 5!
Those who know their diesels (or who have been reading my blog lately) will know that these are the trucks for my S scale CNR RS-18 – an impressive model that's been sitting on the shelf in "lifetime brass" for far too long.
There have been several reasons for the delay in tackling this project. I've now started to address those. To wit:
The builder (Ajin) and the importer (Overland) did a wonderful job on this locomotive, but the cab interior on the as-delivered model was set up for "short hood forward" operation. The CNR locomotives were set up "long hood forward". (Whoopsie!)
Since this is fairly obvious when looking through the (36% larger than HO) cab windows, I decided I needed to fix that. It was fairly straightforward to unsolder the seats and control stand, drill some new holes, and re-solder the parts into the new positions. The control stand is too far back from the front wall in its new position – but that was necessary to clear a cut-out in the floor that accommodates one of the flywheels, and still better (in my mind) than no control stand at all…

(The old holes in the floor will not be seen when the model is reassembled, so I won't bother filling them. The flywheel notch can be seen behind the control stand)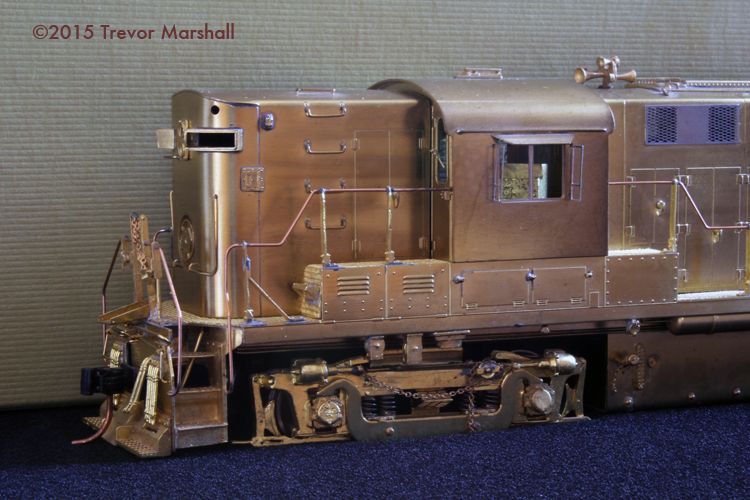 (The control stand is now on the correct side of the cab)
As for the trucks…
I decided to take apart the trucks so I could properly prep and paint them – and I'm glad I did, because there was a fair bit of binding in some of the axle boxes (I'm not sure the term "horn blocks" is appropriate for a diesel but that's what they'd be called in steam locomotive terms). It turns out that the faces that slide in the guides still had bits of brass sprue on them. I filed those smooth and polished the faces, so the trucks should sit better when they're reassembled.
Not shown, I've added some holes to some of the body components (e.g.: end walls of the cab) so I will be able to run wires for lighting. And I've determined how I'm going to install the various components for DCC.
With the modification work and planning out of the way, I set aside the plastic bits and the motors, and ran all of the brass pieces – side frames, axle boxes, locomotive underframe/fuel tank, frame/walkways, short hood, and long hood/cab – through my ultrasonic cleaner prior to priming them.
There will be a lot of masking on this unit, which has a three-colour paint scheme. That said, it should be handsome when it's finished!