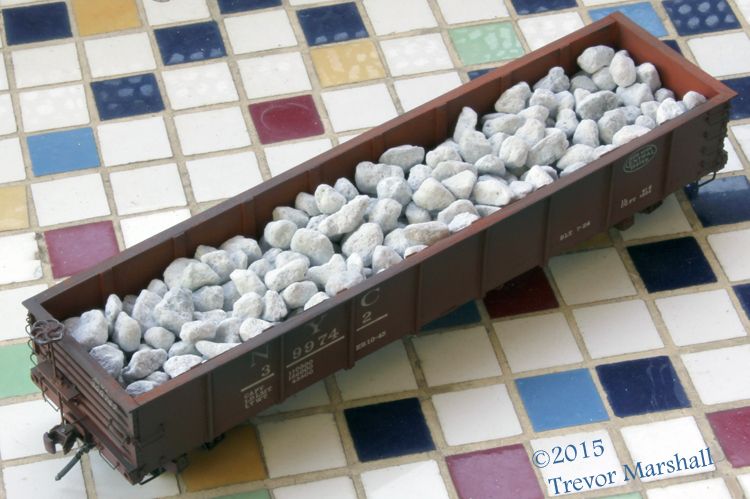 (With large stone, a live load – no glue – looks best)
Yet another New York Central gondola is ready to enter service on my layout. This time, the CNR has borrowed the car to deliver a load of stone to Port Rowan from the quarries at Hagersville, further up the line. It's pretty big stone – they must be rebuilding the breakwater in the harbour.
Like my previous NYC gondolas (NYC 399671 and NYC 399574), this one was built for me by my friend Pierre Oliver. He does this for a living through his Elgin Car Shops business, and I'm happy to send some business his way while I work on the parts of the hobby that aren't so easy to ship to someone else. I finished this car with NWSL wheel sets, Kadee couplers and train line air hoses from BTS, plus weathering.
Googling "gondola loads" (imagine that!) turned up a nifty picture of a DMIR gondola with a load of large stone: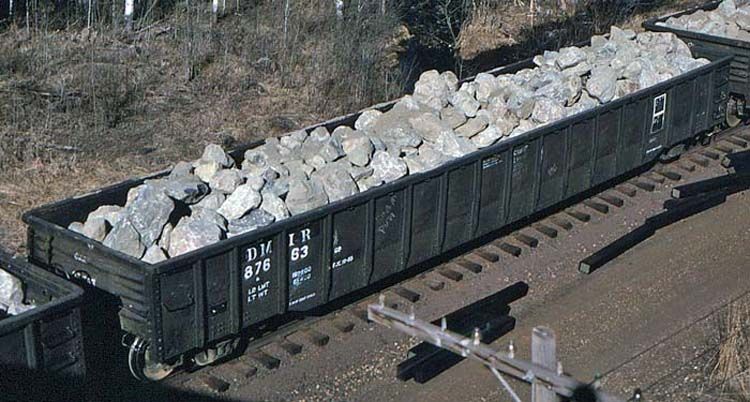 (From the gallery on the Missabe Railroad Historical Society: Click on the image to visit the society's website)
The Hagersville quarries were important the both the CNR and the NYC (through its Canada Southern operation). In addition to supplying ballast, they were a source of stone for highway building in southern Ontario. So large stone it's a perfect load for one of these cars.
I pondered various adhesives to secure the load into the car, but the stone I used (coarse talus from Woodland Scenics) is fairly porous and I was worried losing that effect. Glue-covered rock = ugly! In the end, I decided the best solution was no adhesive at all.
I don't expect this so-called "live load" to pose a problem, although since it's loose in the car I did not fill the gondola above the car sides in the manner of my prototype inspiration. There's less chance of spilling stone everywhere that way.
I now have two loaded NYC gons and one empty. They're all different numbers, but by swapping a loaded car for an empty between operating sessions (and updating the paperwork appropriately) I can effectively model loaded and empty NYC gondolas travelling on and off my branch.