(Matthew from ESU has plenty of reasons to smile, as he shows off the Mobile Control II WiFi throttle. Click on the image to read more on the ESU website)
Yesterday, a friend and I visited George's Trains and The Credit Valley Railway Company – my two go-to hobby shops in the Greater Toronto Area. And in both locations, we ran into Matthew Herman – general manager of ESU LLC, the North American arm of the German company that creates the awesome LokSound DCC/sound decoders.
Matt was in the area to visit various customers and show off some products – including what is destined to become my next standard for throttles on my layout.
Regular readers know I'm a fan of TouchCab – a throttle application that runs on Apple wireless devices and interfaces with Lenz DCC systems without the need for a computer running JMRI. (Unfortunately, TouchCab's developer has announced that he's closing down the business – so if you want a copy of it, now's the time to get it.)
Generally, those who have experienced TouchCab on my layout have enjoyed it. They like the software-based throttle, which can be modified for various situations (for example, for left-handed or right-handed operators), and they like the well-lit screen for finding various function keys. But some have missed the tactile feel of a throttle knob, direction switches, and so on. Running with a button-less throttle requires looking at the throttle to make sure one is pressing the correct control. So using a software-defined throttle isn't for everyone.
That's where ESU's Mobile Control II is set to really shine.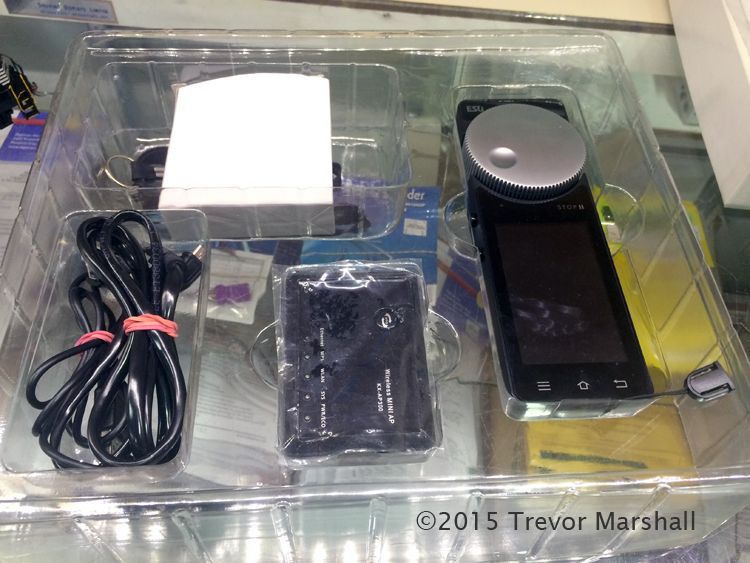 This WiFi-connected wireless cab combines the best features a traditional throttle with the power of a software-defined model. I had a chance to look over Matt's sample at Credit Valley. It wasn't powered up – but I'm already impressed.
The unit feels really nice in the hand and the large throttle knob rolls nicely under the thumb. The throttle has a number of buttons on the sides which may be mapped to any function key, so you can put your most frequently-used functions within easy reach.
The lower 2/3 of the throttle is a capacitive touch-screen interface, which most of us are familiar with thanks to Apple and Android devices. This will display all the features and functions that we currently enjoy on throttle applications such as WiThrottle.
I can't wait.
Now, the catch: ESU makes the hardware, and has created an open source platform based on the Android system. But it's up to throttle apps developers to update their apps – or code new ones – to work with this controller. I'm not a coder so I'm not sure about the work required to do that, but my impression from Matt is that ESU is keen to work with those who are to integrate their apps on the Mobile Control II.
If you're writing a throttle app – or considering writing one – I encourage you to contact Matt at LokSound to find out more. You'll find Matt's contact information here. I look forward to trying your Mobile Control II-compatible throttle app in the not-too-distant future!
Great to talk with you yesterday, Matt. Thanks for visiting!