I've been busy over the past few days, but have found some time to do shape the terrain around Port Rowan and start applying ground cover and static grass.
Here's the before photo – taken on Friday:

Now, here's a photo taken from roughly the same spot, showing how I'm bringing the scene to life: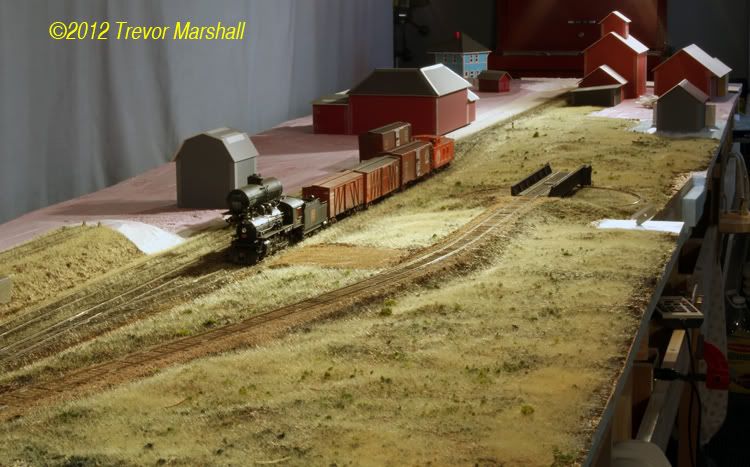 Since we're looking at overviews, here's one from the other direction:

(Note that I've removed the trees in the orchard so I wouldn't get foam board dust stuck to them while working on the meadow.)
I prepped the foam board surface with rasps and rifflers. I then added lumps of Sculptamold in select spots to provide a bit of a roll to the meadow. I then painted the surface in patches, sprinkling the wet paint with ground up tea leaves and commercial scenery material from Scenic Express and Woodland Scenics. Over this, I flooded dilute Weldbond and while it was still wet I added Noch static grass.
For a first pass, I think it looks pretty good in medium range and close-up photos:

I must still add shrubs and other greenery, plus a few trees – and, of course, details.
Adding lumps of Sculptamold to add relief is important when modelling such a flat area. It's particularly noticeable in low angle photos, such as this one:

While working on this area, I also ballasted the turntable approach track. I will airbrush the rails, then go back and add static grass between the ties:

I also added ground cover to the turntable base. Here are the before and after photos:

I can do a little more – notably, along the back of the scene – but the area near the station and feed mill will have to wait until I build the structures. Still, a good start on scenery in Port Rowan, I think!