Today, I lost a good friend and fellow modeller of Port Rowan.
Those who knew Richard Chrysler know he was an exceptional researcher and model builder… an accomplished restorer of Austin Healey classic British sports cars… and an incredibly generous and kind man. Sadly, Richard was diagnosed with pancreatic cancer earlier this year and passed away this morning at age 59. (Here's Rich's obituary.)
Rich was a regular at local train shows, working on his HO scale Free-mo-compliant version of Port Rowan – as he is in this photo from the 2012 Copetown Train Show:

It's how I will remember him – building things, often in public, and sharing his considerable skills and passion for the hobby with others.
Rich was also a member of the Canada Southern Free-mo group. Before that, he was a member of the Ontario & Eastern Railway. Both these layouts appeared at many shows in Southern Ontario.
But the real magic took place in Rich's basement, where he was building a beautiful HO scale layout that faithfully captured the Hagersville Subdivision of the Canadian National Railway. As this map illustrates, the line started in Hamilton, Ontario and headed south and west to Simcoe. There, the prototype split into two branches to reach Lake Erie at Port Dover and Port Rowan. (Rich wanted to model both terminals but did not have the space at home – hence, his Port Rowan exhibition layout. The map also shows that I am modelling only a very, very small portion of this line – just the two stations at Port Rowan and St. Williams.)

Rich's double-deck layout captures most of the highlights of this line, including many crossings and interchange points with railways in Southern Ontario. Compare the layout plan, below, to the prototype map to appreciate how much of the line he was able to incorporate into a modest layout room.

The layout was well underway by 2003, when it appeared in print as the cover story in the March issue of Railmodel Journal. That issue can be found in the archives at TrainLife. (I believe membership is required, but it's free to join TrainLife – and that's a good idea if for no other reason than access to hundreds of model and prototype railway magazines.)
Here's a link to the March 2003 Railmodel Journal at TrainLife. The article begins on page 44.
The article was part of RMJ's coverage leading up to the 2003 NMRA convention in Toronto. I was one of the local co-ordinators for the Layout Design SIG's self-guided layout tour and knew I wanted Rich's layout to be on it. His layout showcased many layout design features that remain innovative today – including the use of integrated fascia/valance to separate adjacent scenes into unique windows…

… to create a shadowbox presentation:

The layout also deployed a "partial mushroom" design along one side, the lower (Niagara Escarpment) deck was viewed from the entrance aisle, complete with swing-gate for access to the interior of the layout. Simcoe was located above this scene, and viewed from the inside aisle:

The layout also featured a helix designed to do double-duty, by taking trains up to the second level between the Escarpment and Rymal, then back down to the first level between Simcoe and Port Dover (although this second trip through the helix was later eliminated):

I spent a day photographing Rich's layout in 2003 and I've posted some pictures from that session so that others may appreciate his work.
—
A tour always started at the CNR station in Hamilton:

From there, visitors and operators could enjoy watching trains trundle south down Ferguson Avenue and creep through busy intersections:

Trains would then face their biggest challenge – climbing the Niagara Escarpment:

For the small 2-6-0s typical on freights, this often required assistance from larger locomotives such as 2-8-2s (which then returned as a light engine move to Hamilton):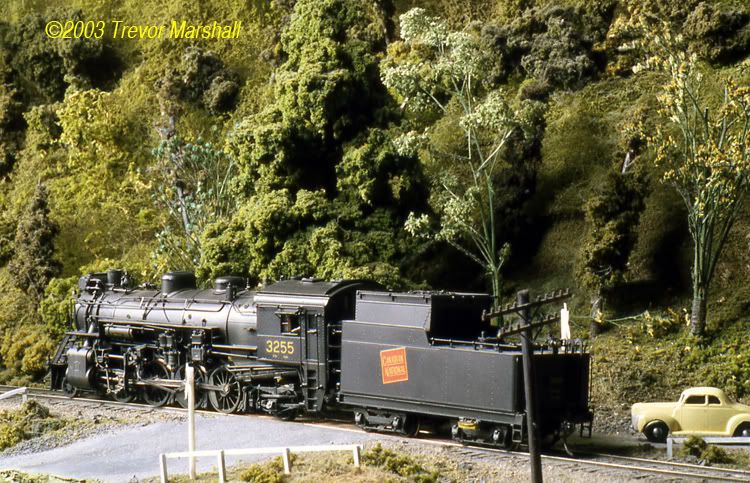 At the top of the Escarpment, the layout switched from industrial city scenes to farmland, as seen in small communities such as Rymal…

…before reaching important junctions like Caledonia, where the line crossed Ontario Highway 6:

South of Caledonia, the line straddled a road on the approach to an impressive bridge over the Grand River:

This bridge carried a weight restriction which limited Hagersville Sub trains to 2-6-0s south of Caledonia – which is why The Daily Effort to Port Rowan was powered by Moguls until almost the end of steam:

In the mid-1950s, the bridge would be reinforced sufficiently to accommodate 10-wheelers.
—
While preparing this posting, I found a few videos of Rich's layout in action:
Running on the Hagersville Sub, by Rich's son Geoff Chrysler, includes a nice mix of layout video and prototype photos to provide a sense of what Rich was accomplishing.
Rich's brother Roger Chrysler (also an excellent model and layout builder) shot video during a layout open house in 2008 and a similar tour the following year. YouTube has done some unusual compression on the aspect ratio for these two videos, unfortunately, but they do show off the trains in motion.
—
Rich's gift for sharing extended to my own efforts on my in-progress S scale Port Rowan layout: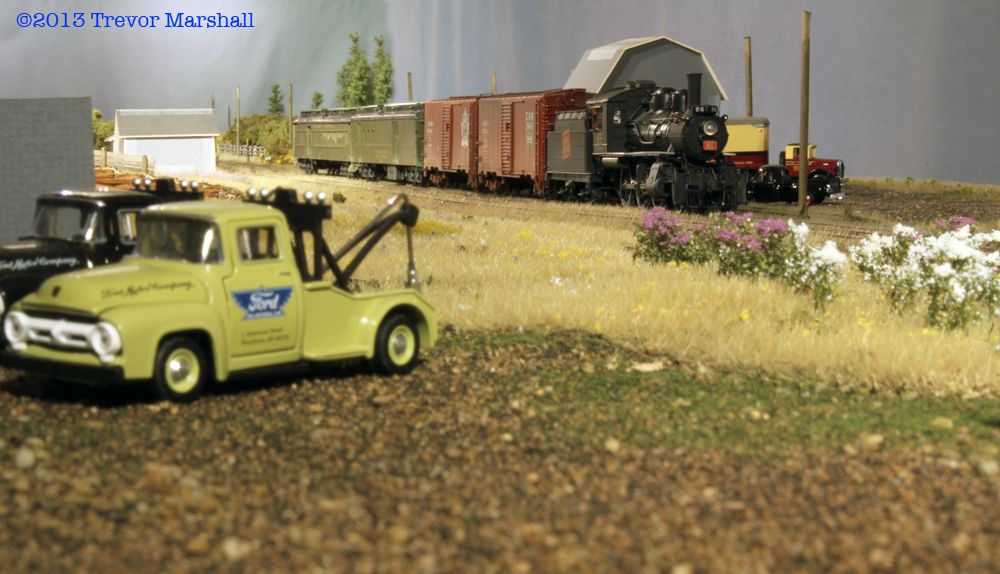 Rich and I regularly traded emails with Mike Livingston and Richard Otto, two gentlemen who remember the steam trains running to Port Rowan and Port Dover. These discussions were helping us to better model the town and the railway that served it: I'm going to miss sharing information with Rich and working together to solve the various puzzles that remain unsolved.
In addition, I owe the accuracy of my CNR baggage-mail car to Rich, who invited me to take reference photographs of his beautiful HO scale model to help me create my own:

When I found out that Rich had been diagnosed with pancreatic cancer, I thought of how I could pay tribute to someone who has been such an influence on my own modelling. The Austin Healey provided an answer.
I have an uncle who also restores these classic British sports cars so I became aware of them long before I was old enough to drive, and learned to standard shift in a spirited four-cylinder Austin Healey 100. The Healey has been produced in model form in several scales, and I own some examples in 1:18 and 1:87 (HO). But I had to search as far as Tokyo to find a decent Healey model in S scale – and ended up with three.
Kyosho offered the Austin Healey 100-6 in three different colours in their 1/64 die cast line, as part of a series of classic British sports cars. Here, a Healey club tour has stopped in the apple orchards near Port Rowan:

Later, they were spotted at the Port Rowan station:

When I get far enough along on the layout, I will park one car – Rich's Healey – at the Port Rowan station and think about how he would've loved to have been standing trackside, waiting for the arrival of The Daily Effort.
(Since Rich restored the cars professionally, I can swap out the car for one of its stablemates as the mood arises.)
Thank you, Rich, for your friendship. I'll miss you, and my thoughts are with your wife, your siblings, and your children at this time. I'm sorry we won't be able to continue our magnificent conversations.
(If anybody reading this knew Rich and would like to add a Healey to their own layout, in addition to the Kyosho model in 1:64, Wiking offered an HO scale version at one time. There are a number of 1:43 die cast models available for O scalers to consider.)