I've been working on learning to build broadleaf trees using the methods outlined in the excellent book Modelling Trees Volume 1 by Gordon Gravett. I've written about this book before, but this is the first time I've actually tried building trees following his methods.
For further inspiration, I'm also referring to another excellent resource, Trees of North America by Alan Mitchell, which was available at one time from Hundman Publishing.
I've done three tree armatures, and I'm really pleased. Keep in mind that these are my first attempts, and I expect my technique to improve as I practice. More on that later…
This photo shows the wire armatures for two taller trees – for use in the Lynn Valley forest – plus a pair of birches growing from the same root system. (The two taller trees are ready for their canopy of leaves, but I must still paint the trunks on the birches.)

Here are a couple of closeups of my first armature, with my tree bark mixture added and painted:

The armatures are twisted florist wire, covered with Flexible Modelling Paste from Liquitex, purchased at a local art supply shop. I've never used this stuff before and it's great – I need to find other uses for it. Three coats hide the wires, while adding some modelling plaster to the top coat provides a bit of rougher texture. I airbrushed the trunk with BAR Gray then finished it with weathering powders – black and brown, plus some green on one side to represent a bit of mossy growth.
For leaves, I like using Selkirk Scenery leaf material but I'm pretty much out of it – so I used the netting/ground foam sold by Woodland Scenics for doing tree canopies. I tore off pieces of this, stretched them out, then applied them over the branches as shown here:

After some tweaking of the underlying branches, I ended up with a pleasing shape, which I then fixed with some hairspray.
My first trees are far from perfect, and won't stand up to scrutiny as foreground models. But they don't have to: I've left plenty of space in the Lynn Valley to plant my early efforts, and the forest will progress towards the fascia as I get better. The only way to build good trees is to practice but there's no sense in letting my early efforts to go waste.
My first two trees are in place behind the water tank: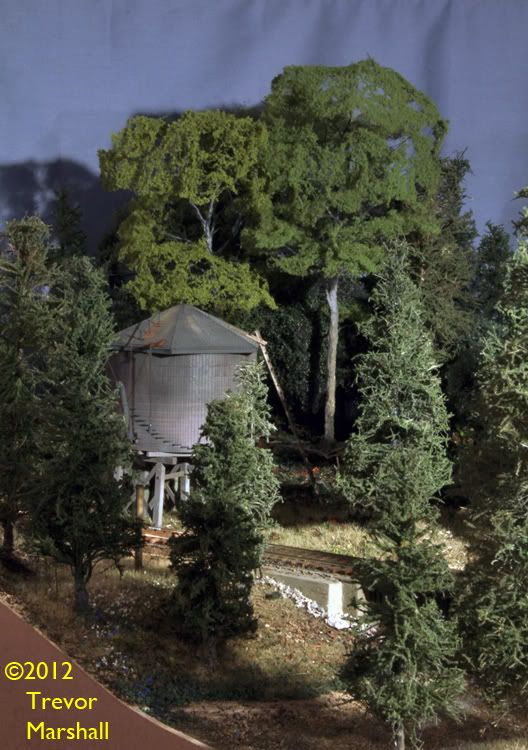 They look fine from a distance – and I think they will stand up to closer scrutiny too, especially when I plant some better trees in front of them.
Thanks, Gordon, for writing a wonderful book. It's given me the confidence to tackle a surprisingly difficult – but rewarding – modelling challenge! I'm looking forward to Modelling Trees Volume 2, which is already on order.