This project started with a comment from reader Monte Reeves, who noted that Potter Motors in Port Rowan received Farmall tractors on 53′ flat cars.
I think a half-dozen bright red tractors on a flat car (the original TOFC?) make a great, eye catching load. In fact, I modelled such a load years ago in HO scale (and wrote about it in the July 2002 issue of Model Railroader magazine). So naturally, I'll have to do this again.
Today, the flat car arrived in the mail. This was a bit of a challenge as the flat cars once offered by S Helper Service have been out of production for some time (and SHS was recently sold to MTH, so there's likely to be a pause in production while MTH decides how it's going to enter the S scale market in 2013). But I found one, pre-painted in the Wabash scheme, courtesy of Jeff Wilson at Hoquat Hobbies in New Jersey. (Great service – thanks Jeff!)
The tractors came from Ertl, via Diecast Direct. They are toys, not scale models – but very nice looking toys and I can certainly live with them. The shiny coat of paint sure makes them look new, too…
The first task is to confirm that I can, indeed, fit six tractors on the flat car. And the good news is, "Yes I can":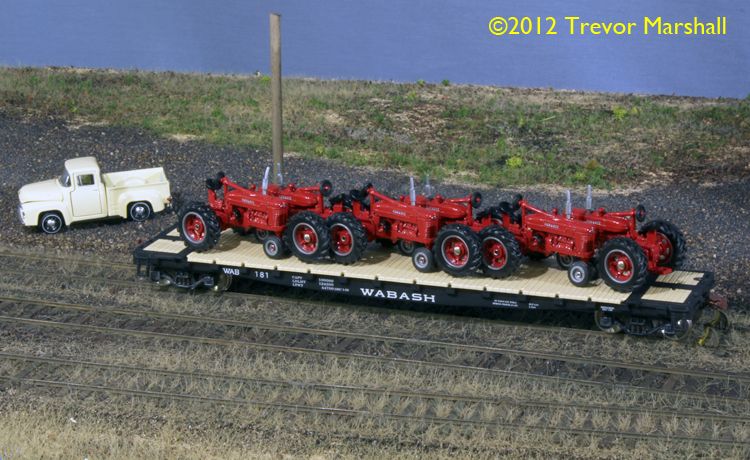 Next steps include weathering the flat car, including the deck, then adding the blocking and chains to secure the load.
(With six die cast tractors and a die cast flat car, this car is going to weigh a ton!)