Chris Abbott visited this week and brought me a present: Two half-sized waybill boxes for the layout. We installed them on the fascia, in front of the depots at St. Williams and Port Rowan.
(Thank you Chris – they're beautiful!)
Chris built these based on photos of Southern Pacific bill boxes on Tony Thompson's blog. He tells me he enjoyed the exercise – a good chance to put to use some of his woodworking skills. (The hinges and hasps are from Lee Valley.)
Because they're half-size, some details of their construction had to be altered while still retaining the overall look and proportions of the originals. For starters, having a "letter slot" on the front of the box for depositing waybills would not have been practical, given that the boxes would be mounted lower than on the prototype and that any waybill fed through such a slot would jam against the back wall of the box. Chris devised a clever solution – putting a slot in the top of the box and then hiding it with a flip-forward lid:

As on the Espee boxes, the front face is split with the lower half flipping up to allow a conductor to retrieve waybills: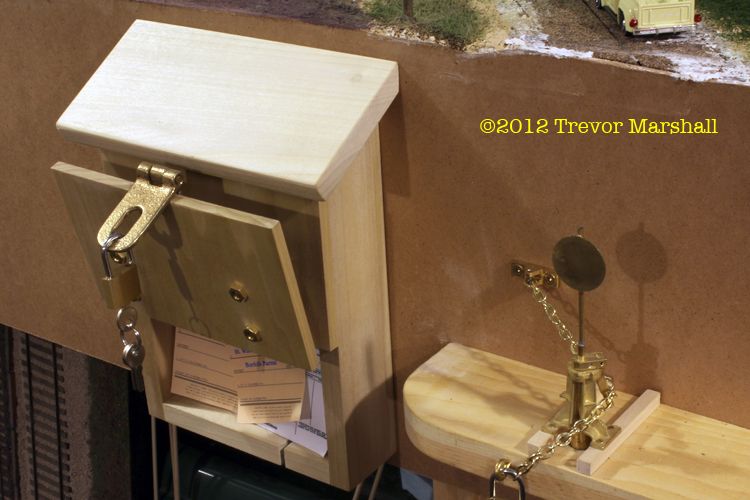 A padlock – the same style used on my switch stands – secures the hasp and protects these valuable documents from theft. (As with the locks on the switch stands, I will add a keeper chain on the underside of the waybill boxes so we don't lose the padlocks.)
Chris and I found that sometimes, a waybill would slide to the back of the box and be difficult to retrieve. The problem – illustrated below – is that the bills are almost as wide as the box interior so there's no way to get a finger behind a recalcitrant waybill to hook it out:

Chris tried a kicker, fashioned from piano wire, but it was less than satisfactory. It did, however, provide us with the inspiration for a workable mechanism. Working together, we fashioned a new kicker. We bent a lever from 1/16″ square brass stock and soldered it to a hinge formed from two sizes of brass tubing. This kicker hangs from the back wall of the box and slides through a slot in the bottom of the bill box, with the end of the lever projecting about an inch below the box:

To retrieve bills, a conductor cups a hand below the box, flicks the kicker arm forward with a finger, and the bills drop right into the waiting hand. It works beautifully.
I find the waybill boxes much more prototypical than the standard row of pigeon-hole car-card boxes, and the act retrieving and depositing waybills will add to the play value during operating sessions.