As previously mentioned, I recently placed an order for S scale figures from Arttista, and they arrived yesterday.
My order included a number of train crew figures. Some of these will decorate the walkways on my CNR vans, but I also ordered a few to use as operations aids.
My recent experiment with adding brake wheels and air hoses to the fascia as operations aids reminded me that back in the 1990s (if I recall correctly), Linda Sand wrote about using scale figures to represent brakemen on a layout. The idea was that these figures would remind people that things on a railroad do not happen automatically: Cars do not uncouple themselves, crossings don't flag themselves, and so on.
The reality is that even in the days of large crews all work on the ground was done by two brakemen and they couldn't be everywhere at once. So moves were planned to make sure the brakemen were where they needed to be, with a minimum of walking. Walking takes time and can be exhausting, so it makes sense to give the guys on the ground a break.
When I read Linda's piece, I got it immediately. Since I was working in HO at the time and was a regular member of the crew on Michel Boucher's Delaware and Hudson layout, I glued a pair of HO brakemen to styrene squares and took them to an operating session to try this out.
I think the other operators thought I was crazy.
But as I explained to them, it wasn't necessary to use the brakemen all the time. Rather, I used them for a few sessions to train myself to think like a member of a real crew. It definitely changed how I switched Michel's layout, and sparked my interest in what's become known as Finescale Ops.
Fast forward to yesterday's Arttista delivery (terrific service, by the way): I picked some likely candidates, cut round styrene bases, and glued them to the bottom of each figure's boots.
One potential problem is that much of my railroad – including a lot of the track – is covered in tall static grass: How was I going to make the figures stand up reliably on an uneven surface, without gluing them to a huge disc (which would crush the grass anyway)?
I thought about this and realized that the answer comes from the insect world – specifically, an insect that every kid calls a Water Walker.
I grabbed some fine phosphor bronze wire, cut two pieces each 1.5″ long, gave each a 90-degree bend in the middle, and then glued them point-to-point on the underside of the styrene base so that they formed a cross. The resulting brakeman operations aid looks like this:

And – as I hoped – they stand up just fine in long grass:

Now during operating sessions, I can quickly and easily deploy brakemen to help me visualize the moves that must be made while setting off and lifting freight cars. For example, I know which brakeman is connecting glad hands and which is locking up the switch stand…

… and when it's time to pull out of town I know where I have to slow down so they can climb aboard the locomotive or caboose.
With their phosphor bronze whiskers the brakemen are surprisingly stable, too – in fact, they can safely ride on top of most freight cars during switching moves:

While making up these two brakemen, I also made up a special flagman for the Charlotteville Street crossing in St. Williams. He'll hang out at the station and can be placed on the road whenever crews are conducting switching moves that foul the crossing: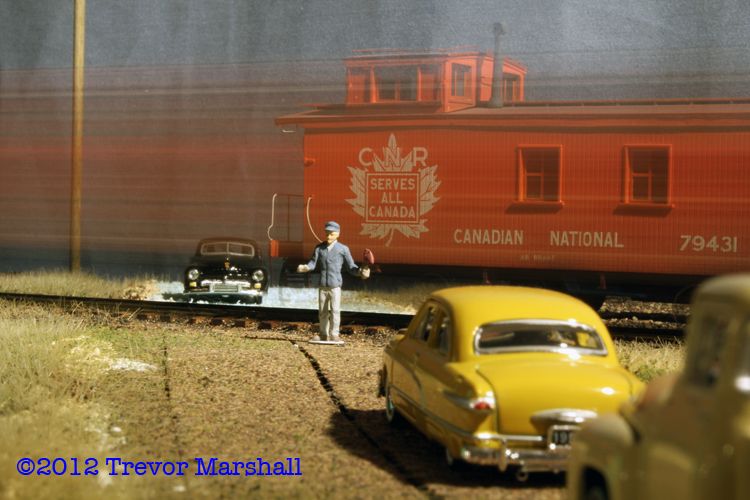 As with the hand brakes, air hoses and other operations aids I've incorporated into the layout, crews are not required to use the brakemen figures. But if they want to, the figures are available. Personally, I enjoy how they change one's thinking about what one is doing when switching on the Port Rowan branch.