I visited my friend Pierre Oliver on Saturday, and he presented me with two new S scale freight cars for my layout, including this Central of Georgia ventilated boxcar: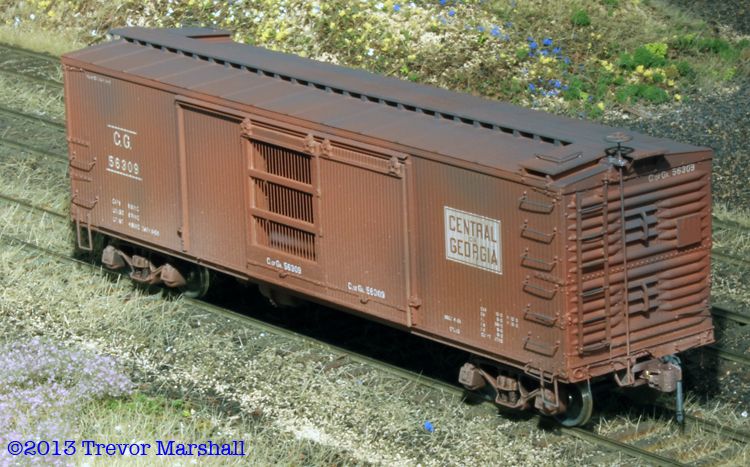 Pierre built this from a Smoky Mountain Model Works resin kit. I finished the car, adding fine scale wheel sets, flexible air hoses (BTS part 02302) and Kadee couplers. I also did the weathering – I like doing that so all my rolling stock uses the same palette.
On Pierre's blog, he writes…
A very nicely done kit, that is a delight to build. I do enjoy ventilated boxcars. They are just so darn neat. The double set of doors and the end vents create a unique looking car. And they wandered all over the place, hauling melons and other such produce. Most transition era layouts should have at least one on the roster.
This is especially true in S scale, where the selection of interesting freight cars is a fraction of what it is in HO scale, or even O. This car will definitely add some variety to the trains on my branch.
Would it show up in Port Rowan, though? Sure!
Port Rowan was the closest rail terminal (and closest community, period) to Long Point, a popular piece of cottage country on the north shore of Lake Erie – even back in the 1950s. Trains on the branch would serve cottagers at Long Point, Turkey Point, and along the lakeshore.
And who doesn't enjoy a nice piece of melon in the summertime?
Surely an enterprising general store or cottagers association could order a carload of melons for a festival…
Thanks Pierre!
(By the way, Pierre has built several pieces of rolling stock for me. In fact, he does this full-time under the Elgin Car Shops name. If you have a pile of resin freight car kits – in any scale – why not talk to him about doing a few for you so you can focus on other aspects of the hobby… like building your layout?)