Following my post earlier this week on adding weeds and bushes to the coal track, I had a wonderful phone call from my friend Bill Kerr. He really likes what I'm doing with the scenery (which is very high praise since he does brilliant work in this regard). He did, however, offer a couple of good suggestions, which I acted upon.
Bill noted that 50-60 years of coal dust around the bin itself would've killed a lot of vegetation, including all but the heartiest of weeds. Makes sense to me. So, I did some transplanting last night.
As a reminder, here's how the scene looked earlier this week. The weeds are quite thick below the coal dock and up each side of the concrete bunker:

I've now thinned out this area, removing all but a few weeds in front of the concrete wall and adding some sand/gravel around the walls: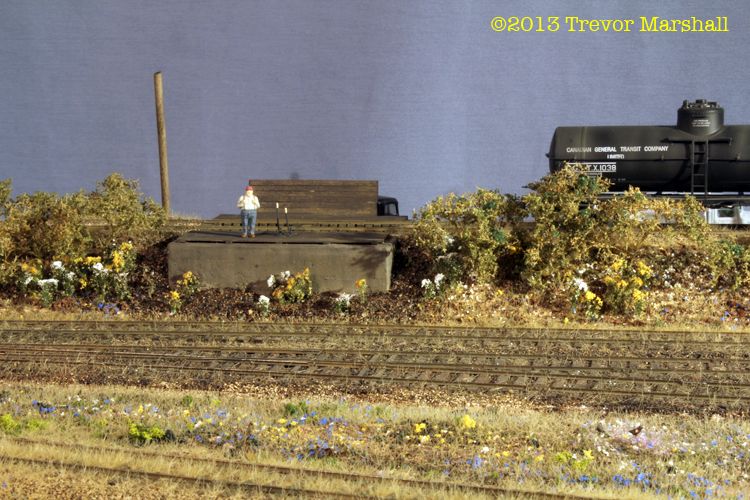 I think it looks a lot better for a couple of reasons. First, it looks less like the coal dealer is planting a garden around his bin. And second, it makes the coal bin stand out more from the rest of the scenery along this track.
The weeds did not go to waste. I simply moved them elsewhere. Most went to the embankment at the end of the coal track:

Following another suggestion from Bill, I used the rest to narrow the path up the embankment so it looks more like a footpath (seen just to the left of the switch stand in this photo):

Thanks Bill – great feedback!