I've made great progress on the layout, but I've been a little bothered of late that the first thing a visitor sees when they enter the room is a big blob of unscenery at the end of the Port Rowan peninsula: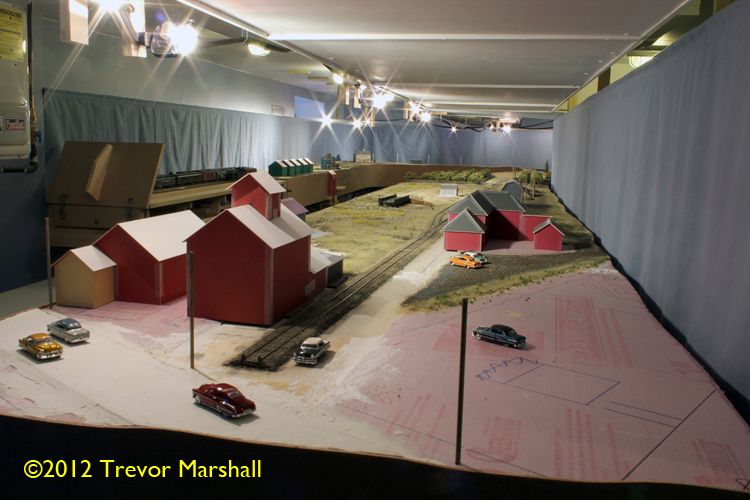 So I decided to do something about it.
The problem is that this area will require a lot of complex structures. As the above photo shows, they include the station, the feed mill complex and a small garage. And while they're not on the layout, there are also a couple of houses to go in the pink area in the right foreground.
I didn't want to add scenery here until I built the structures. But then I realised that even basic scenery would be better than nothing – and won't actually affect the construction or placement of the buildings at all.
So, I've removed all the mock-ups and added basic ground cover in the last place where it was missing on the layout. Here's a photo similar to the earlier photo – but with a start on green grassy backyards and gravel/cinder drives:

Sharp-eyed readers will note I've built up a ramp for the station drive as it approaches Bay Street (the white road in the foreground), using a couple of cedar shingles glued to the 3/4″ plywood. I've also added some leftover cork roadbed where the station's cinder platform will be. And in the lower right, some cork roadbed creates a base for a very small section of Chestnut Street.
Here are a couple more views, with more cinders and greenery in place. I've completed the station driveway and added some green for the area to the inside of the L-shaped station. (This will become more clear when my glue has dried and I can replace the structure mockups.):

I'm looking forward to watching a train arrive at Port Rowan, without the distraction of plywood and pink!