Back in January I photographed a freight extra on the Port Rowan branch, to document a typical operating session.
There are a lot of photos to upload and describe, so I'm going to share this in sections. In this first section, the crew on CNR 10-wheeler 1560 works west with five cars plus a van, and the photographer captures their switching at St. Williams.
—
With bell ringing, X1560 West arrives at St. Williams and crawls across the Charlotteville Street crossing with the assistance of the station agent, who is flagging the traffic. (He doesn't always have time to do that but it does save the ears of the family who live in the blue house across from the depot, and they often give him a pie to take home, for which he's grateful.)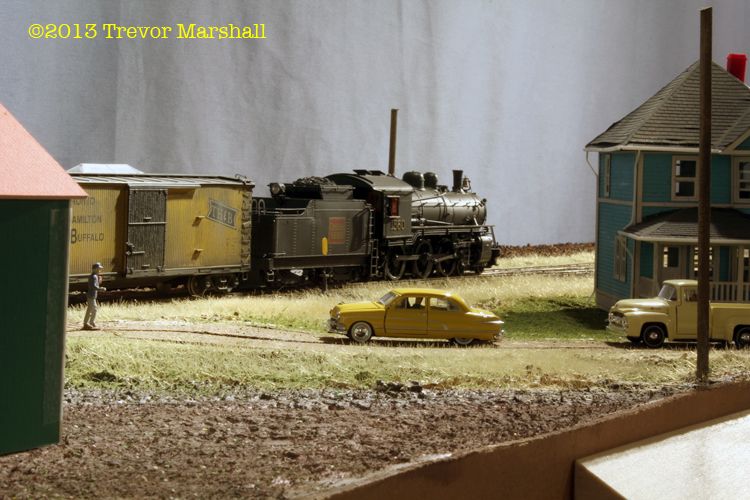 The engineer stops the train with the van at the depot, so that the conductor can climb down and collect waybills:

There are two cars to collect from the spur at St. Williams, and two cars to spot here, so it's a busy day!
With orders in hand, the crew pulls forward to the west end of St. Williams. The rear end brakeman unloads and walks ahead two cars to make the first cut:

Meantime, our head-end brakeman heads forward to unlock the switch to the spur. He watches as the locomotive and first two cars pull past the switch and signals the engineer to stop. He then lines the switch for the spur and signals for the engineer to come back: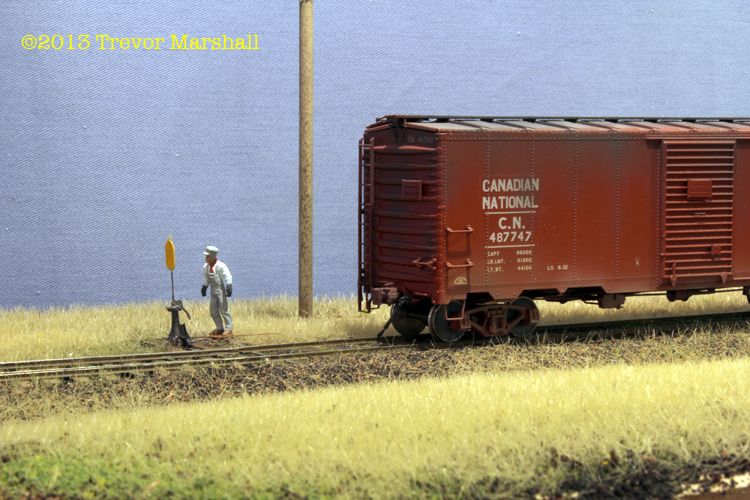 Our rear-end brakeman has crossed the tracks to the spur, inspected the two freight cars that X1560 will lift today, and opened a knuckle on a tank car: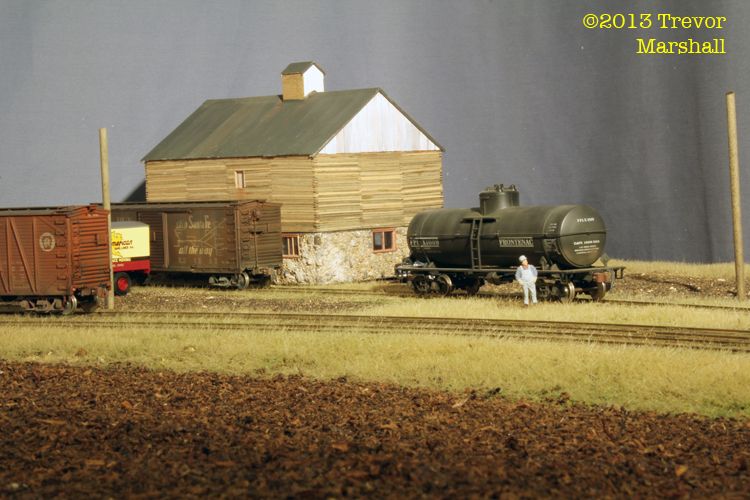 (The guys are working safely, yet quickly and efficiency, today – they must be eager for lunch in Port Rowan!)
CNR 1560 shoves two cars back into the spur to collect today's lifts:

After backing onto the tank car and making sure the pin dropped in the coupler, they shove back further to collect an ATSF boxcar:

The crew pulls forward to clear the spur, then the head-end brakeman lines the switches so the train can back into the siding:

The two cars just lifted will be stored here to collect on the return trip – a move that saves a run-around manoeuvre later:

With the lifted cars tied down in the siding, the rear brakeman once again positions himself to help spot the set-offs. These are backed into position on the spur and the brakes tied down: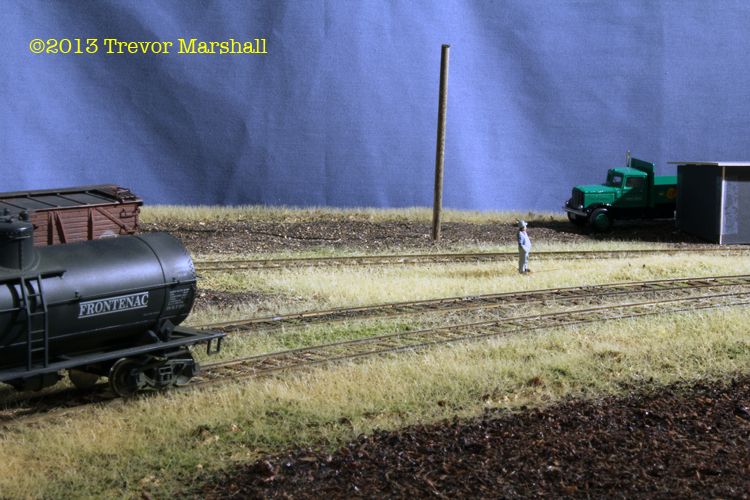 The crew reassembles their train, lines and locks switches for the main, and performs a brake test. With three cars and a van in the train now, it doesn't take long. Everything looks good, so the engineer whistles off and with bell ringing, X1560 West departs St. Williams, crossing a short overpass as it heads into the Lyn Valley:

—