Back in January I photographed a freight extra on the Port Rowan branch, to document a typical operating session.
There are a lot of photos to upload and describe, so I'm going to share this in sections.
In the first section, the crew of X1560 West switched the spur at St. Williams.
In the second section, I documented the run through the Lyn Valley to Port Rowan.
In the third section, the crew arrived in Port Rowan and collected outbound cars.
In the fourth section, we followed the crew as they continued switching in the terminal.
In the fifth section, the crew finished switching in Port Rowan
In the sixth section, the locomotive was turned and outbound train assembled.
In the seventh section, the freight extra began its return trip.
In this, the eighth and final section, the crew finishes a bit of switching in St. Williams, then heads for home.
—
As X1560 East pulls into St. Williams, the engineer eases back on the throttle and coasts past the boxcar and tank car that the crew pulled from the spur and dropped on the siding during their outbound journey:

(The extra work then saves the crew from a run-around manoeuvre now.)
The train pulls to a stop with the van near the head of the cut to be lifted, so the rear brakeman can unload to open a knuckle on the boxcar and release the handbrakes on this cut of cars:

Meanwhile, the head-end brakeman pulls the pin behind the locomotive and climbs back aboard. He flags the Charlotteville Street crossing as the engine eases across, then walks back to unlock and throw the east siding switch. He'll wait here while the engine crew fetches the lift: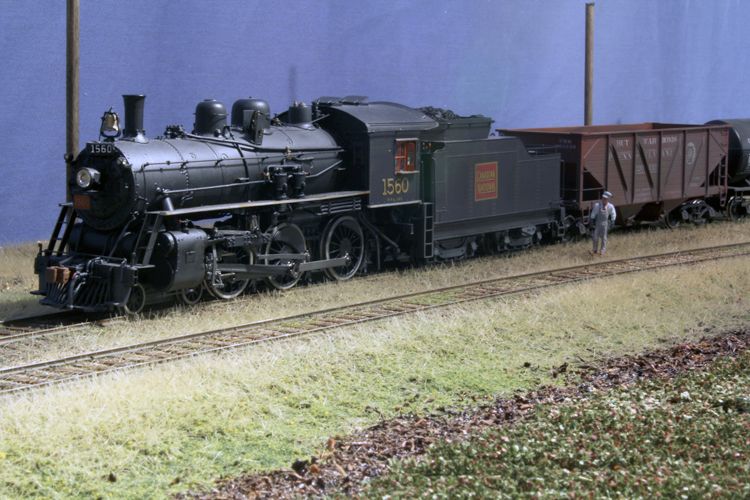 As 1560 eases into the siding, the crew watches for hand signals from the rear brakeman, who stands ready to make the connection: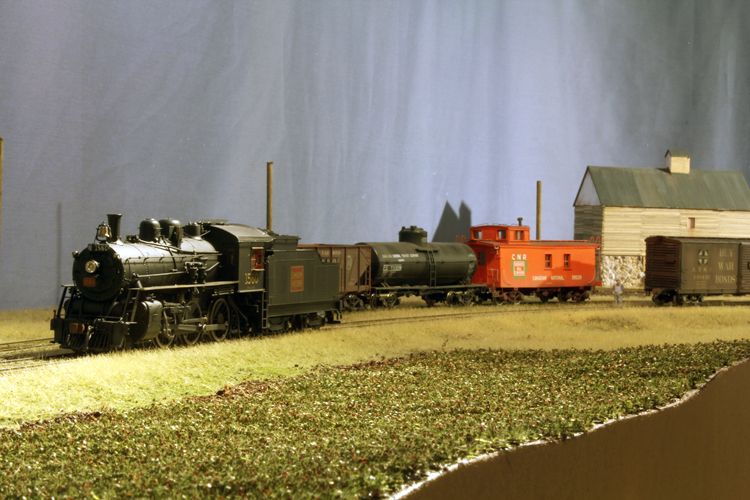 All is good and the locomotive hauls the two cars out of the siding. The rear brakeman hitches a ride to the head of the cut standing on the main, where he'll wait for the train to shove back:

Once more, the head-end brakeman flags the crossing. He'll then line the east siding switch for the main, lock it up, and signal the engine crew to shove back: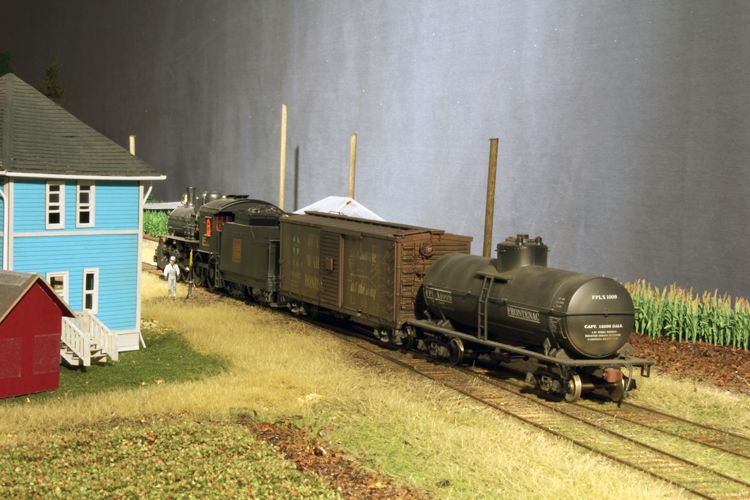 The train is reassembled. Air hoses are connected and a brake test performed:

With the work done, X1560 East heads across Charlotteville Street one last time today, then scoots behind a row of tobacco kilns as the crew heads for Simcoe: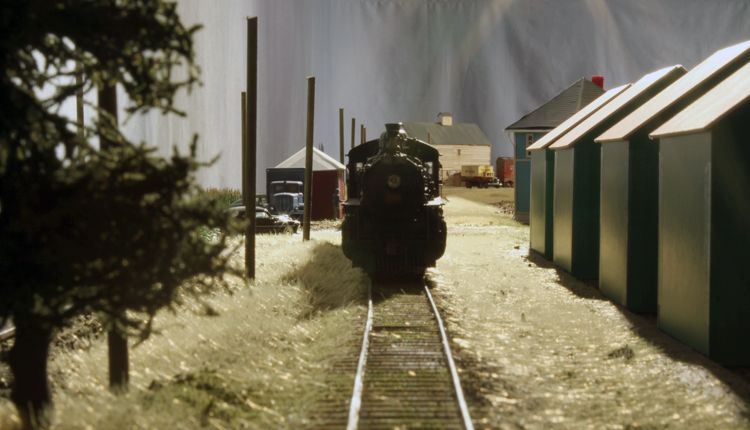 —
(I hope you enjoyed this tour of my S scale layout. Without counting the time stopped to take photos, I required about two hours to run this train at realistic speeds with correct whistle and bell codes. The work involved included stops for collecting paperwork, writing switch lists, unlocking/throwing/locking switches, opening knuckles and checking that pins had dropped when coupling, setting brakes, hooking up train line hoses, performing air tests, and more. There's a lot that can be done to enhance how one runs a modest layout, if one is ready to think beyond the "throttle and direction switch"!)